Ramped-up IDF demolitions leave dozens of Palestinian adults & children homeless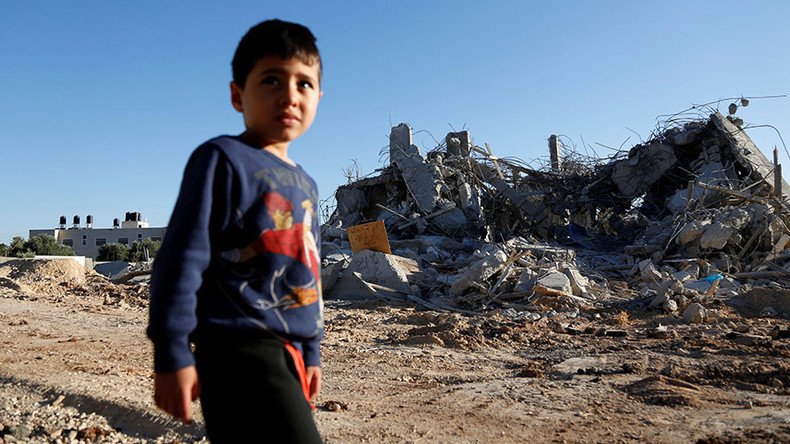 Israel has stepped up its demolition of Palestinian homes this year, with the IDF destroying 11 more houses on the outskirts of Jerusalem on Tuesday. The total number of bulldozed buildings in 2016 could become the highest in a decade.
At least 44 people were left homeless, including 11 children, according to leading Israeli human rights group Bt'Selem. One of the homes destroyed on Tuesday was a two-story building.

The demolished homes were located in Qalandiya, near Jerusalem.
The reason behind the demolitions is said to be the lack of proper building permits for the houses. However, it is almost impossible for Palestinians to receive permits in the part of the West Bank that is under full Israeli control - which happens to be about 60 percent of the territory, according to the UN.

Authorities did not comment directly as to why the homes were demolished.

Two of the destroyed homes were considered part of the occupied West Bank and nine were part of annexed East Jerusalem, Bt'Selem said.

Tuesday's move brings the total of bulldozed homes to 89 this year in the West Bank and East Jerusalem. This is more than the whole of last year, which saw 74 homes destroyed, and higher than any other year over the last decade except for 2013, when 175 homes were brought down.
READ MORE: 'Record demolition & displacement': Israel razes dozens Palestinian homes in West Bank
The Tuesday demolitions were accompanied by clashes in which several Palestinians were injured, rights group Ir Amim said.

Palestinians reportedly clashed with IDF soldiers, who used stun grenades and tear gas canisters to disperse protesters.
One of the residents whose home was destroyed on Tuesday said his family was informed of the planned demolition less than 24 hours in advance.
Israeli authorities "warned us on Monday afternoon that they were going to destroy our houses, some of which were still under construction," Mohammed al-Jouri told Middle East Eye.

B'Tselem has warned that such demolitions put the two-state solution at risk. "These efforts to break the contiguity of Palestinian East Jerusalem with the West Bank pose a severe threat to the two-state solution," the rights group said.

Earlier this month, at least three people were wounded in clashes with IDF troops when Israeli authorities bulldozed the house of Bilal Abu Zeid, who Israeli authorities believe is an accomplice of a group of Palestinians involved in a February attack that left one Israeli police officer dead and another injured. Zeid is currently being held in an Israeli prison.

READ MORE: 500 rabbis urge Israel to stop demolition of Palestinian homes
You can share this story on social media: