Palestinian village demolished for the '100th time since 2010'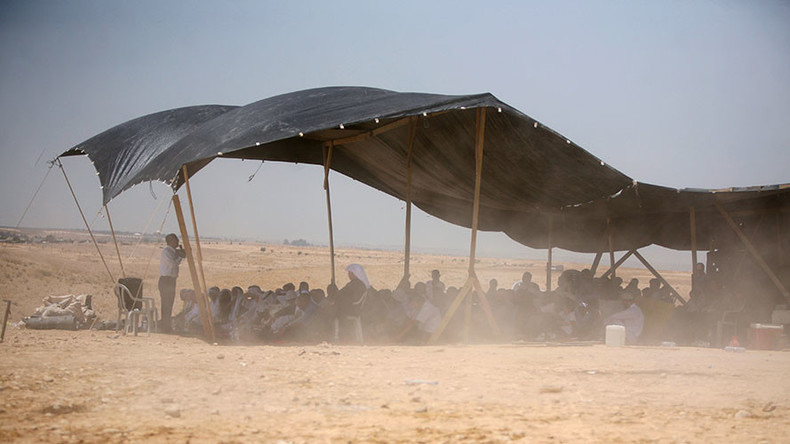 Israel has demolished the Arab village of Al-Araqeeb in the Negev "for the 100th time since July 2010" and the second time since the beginning of Ramadan, locals and activists say.
"A large number of Israeli police accompanied with bulldozers stormed the village [on Wednesday] at dawn and demolished all the houses, tents and other facilities," local activist Aziz Al-Touri told The Middle East Monitor media outlet.
Israeli authorities claimed that they leveled the village because it was constructed on state land and didn't have the necessary building permits.
Another activist, Saleem Araqeeb, said that the demolition of the village went ahead despite a decision by the Israeli Higher Court of Justice that ruled al-Araqib's lands don't belong to the state, as quoted by the International Middle East Media Center.
He added that after the decision, Israeli authorities filed another lawsuit urging the court to order al-Araqib's residents to pay a daily fine of 5,000 shekels (around $1280).
Moreover, the villagers have also been sued for the cost of the first eight demolitions of their village, for which Israel is seeking 1.8 million shekels ($467,000), Al-Jazeera reported.
Even before storming the village, Israeli forces had "been harassing the residents who were hiding in the village cemetery" for days, Al-Touri said, adding that "the locals don't hope for things to become better."
"When we rebuild the village, we expect the Israeli occupation to raid and demolish it at any time," Al-Touri said.
However, the residents won't give up, he added. The "oppressive and inhumane" acts against the villagers will only see their love for their land grow, the activist said.
Between 70,000 and 90,000 people live in largely Bedouin villages of the Negev desert, and Al-Araqib is one of the about 40 Negev villages that Israeli authorities have declared unrecognized.
Currently, some 53,000 Palestinian Bedouins living in those villages can't prove land ownership and about 100 homes have been destroyed since the beginning of 2015 alone.
The residents of these villages are full Israeli citizens, but the state doesn't provide them with water, electricity, infrastructure, or sewage systems.
In most of the villages, there are no basic state services like schools and hospitals.
You can share this story on social media: