Munich gunman planned attack for year, left manifesto – police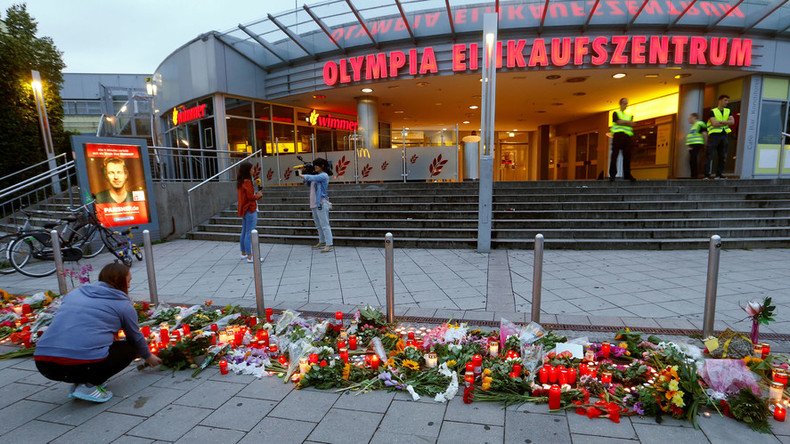 The Bavarian crime office has carried out a search of Munich shooter's home, and found materials consistent with the theory that he had been planning the attack for a whole year prior to the act. Police also say a manifesto was left at the site of the shooting.
The prosecutor's office announced the news in a statement on Sunday. It added that the victims in the shooting were not classmates of the shooter. They were subsequently discovered to have been children of immigrants.
According to Sueddeutsche Zeitung, the shooter identified by police as David Sonboly, 18, bought the illegal weapon he used online. The Glock was bought through Darknet – the concealed area of the internet accessed normally by a minority of people looking for illegal services or items.
The first to identify Sonboly was his own father. He was the one who contacted the police after seeing a video filmed by one of the witnesses, as the attack was in progress.
German media reported that Sonboly had some problems socializing with peers and had failed a college exam on the very day of the tragedy.
According to Bild am Sonntag, Sonboly's issues extended to being bullied by some classmates, particularly of Turkish and Arabic descent.
According to one Bavarian official, the young shooter visited the site of a 2009 school shooting in southwest Germany that killed 15 people - an event that served as inspiration for the attack.
Several years ago, Sonboly had also been mugged and beaten, being injured in the attack. Sonboly who was then still a boy, went to the police.
Further details obtained by the German paper reveal that he also suffered from attention deficit hyperactive disorder – a condition commonly known as ADHD, its authenticity sometimes debated in the medical community.
And on Saturday it was reported that Ali was obsessed with mass shootings. Police earlier speculated about the young German-Iranian's fascination with Norwegian killer Anders Breivik, the neo-Nazi who claimed 77 lives in a shooting rampage several years back.
It was speculated if the manifesto found at the scene of Sonboly's crime had matched Breivik's, but the police denied any connection.
Sonboly had used a hacked Facebook profile to lure victims to their deaths with McDonald's food.
People have been coming to the scene of the shooting to pay their respects, lay flowers and light candles for the victims of the shooting in which nine people were killed and a further 35 injured. Sonboly's body was later discovered at the scene. He had committed suicide.
You can share this story on social media: