'Open the border!' Pro-refugee group tries to breach Greek-Turkish border cordon (VIDEO)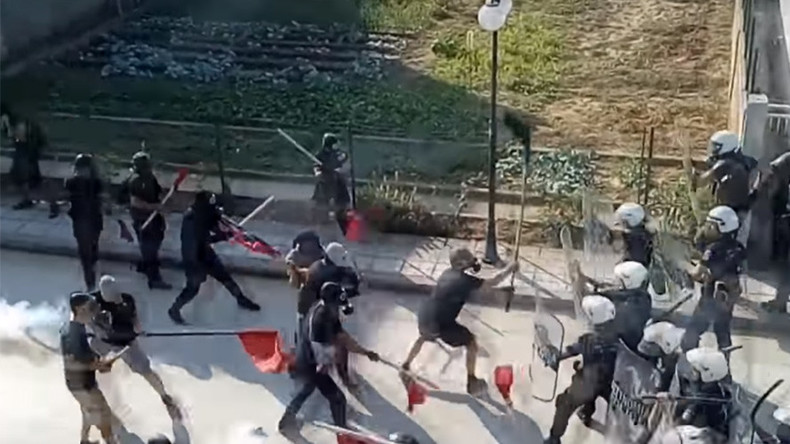 Clashes broke out in the Greek town of Kastanies as dozens of pro-refugee protesters rallied against the fence set up at the Turkish border and attempted to breach police lines. Authorities resorted to stun grenades and tear gas to stop the unruly crowd.
According to Greek media, on Saturday over 200 members of the group known as "No Border Camp" held a rally in Kastanies against the closed door policy. Chanting "open the border" and carrying placards reading "Beyond Borders" the demonstrators urged authorities to dismantle the fence set up on the Turkish border to prevent the entry of illegal migrants into Greece.
The protesters were holding a march and wanted to make their way to the fence but were stopped by a police cordon on their way. Footage captured members of the group trying to break through police lines and hitting officers dressed in full riot gear with flags. In their turn, police defended themselves with shields and deployed tear gas and stun grenades.
Since Thursday, hundreds of members of the No Border Camp have been reportedly staging rallies in Thessaloniki, Northern Greece and at the city's largest Aristotle University, according to Greek media.
You can share this story on social media: