154 killed, 8.6 million affected as extreme rains flood China (PHOTOS)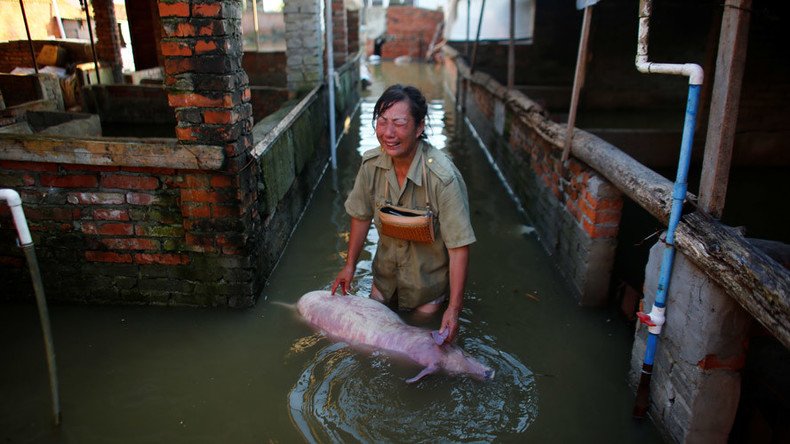 Some 8.6 million people have been affected by destructive floods and landslides caused by heavy rain in China, local media report. Officials said that at least 154 people have been killed and the death toll is likely to rise.
The worst-hit was Hebei province in northern China, Xinhua news agency reported. Some 52,000 homes collapsed in the area. Hebei has about 73 million residents.
At least 114 people have been killed and 111 are still missing in the province, according to the People's Daily newspaper.
The city of Xingtai alone saw nine people killed, with 11 more unaccounted for.
Henan province in central China, with 94 million people, was also affected by the natural disaster. At least 15 people have been killed and eight are missing there following violent thunderstorms.
READ MORE: 78 killed as storm rips through eastern China (PHOTOS)
Strong winds forced some 72,000 residents to flee their homes and damaged 18,000 houses in the province, Reuters cited local media.
All in all, some 8.6 million people in China have been affected by the storms, state media and local governments said.
Photos released in Chinese media showed people standing in the water, evacuated in trucks or just sitting on top of the cars while water is approaching. Other shots pictured debris submerged in a tide of brown mud in the areas affected by the disaster.
China is frequently struck by extreme weather, with various parts of the country often falling victim to floods, droughts, earthquakes, hailstorms and typhoons.
Earlier in June dozens were killed in the eastern Chinese province of Jiangsu as the region was hit by a series of extreme weather events, including lightning, rainstorms, hailstorms and a tornado.
You can share this story on social media: