Smartphone app lets users play refugee interrogator
Published time: 21 Jul, 2016 11:38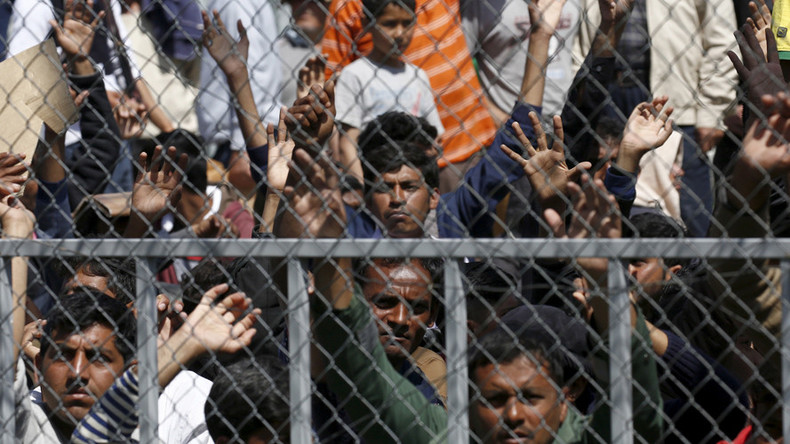 With Europe in the midst of a refugee crisis, two Dutch journalists have set out to change people's perceptions. They are doing so with a smartphone app that lets users talk to actors portraying refugees, and ask them tough questions.
The app is meant to do several things, the main being to alter perceptions of refugees, another to explain that it's not easy becoming a refugee in the Netherlands – particularly important, seeing as misperceptions about the ease of the process fan the flames of far-right movements in the Netherlands and EU as a whole.
'The Detailed Interview', as the app is called, lets users select tough questions from make-believe refugees from Syria and Guinea, who in turn explain why and how they fled their homelands, and what motivates them in their lives.
Even though one might ask, 'Why use actors at all when you've got real, actual refugees?' creators Ludo Hekman and Klaas van Dijken say the questions and answers are all based on real migrant interviews.
"If you read some newspapers in the Netherlands, they really feed on the fear of admitting refugees too easily," they told Reuters. "We found out that it's really hard, and parts of the procedure to become European are really intense."
The current process involves two interviews, according to the website of the Netherlands' Ministry of Security and Justice. Some 46,000 people applied in the year leading up to April 2016, EU statistics say. But the actual process of securing a new home can take several years.
The app has had over 10,000 users in three months since its inception, also in April.
When visiting the app's website, the user is greeted with three sample interviews with respondents aged 21 to 32. They all have a compelling story to tell, and in the process of the interview, the user can decide whether to process the request based on the answers. For instance, Rifat, 21, caves in and admits to joining a rebel group. Meanwhile, the actual 'Rifat' is still waiting for his request to be processed.
In the midst of rising terror attacks in Europe, emotions are running high. On top of all the sexual assault allegations in places like Sweden and Germany, there have been trivial cases of everyday life elevated to the level of discussions on cultural incompatibilities. A lot of the mistaken sentiments have boiled into terrifying attacks on migrants themselves, including multiple burnings of asylum centers, not to mention beatings and other attacks across Europe.
But compounding these also is the harmful association of all attacks involving Muslims with Islamic State (IS, formerly ISIS) terrorism. According to geopolitical analyst Patrick Henningsen, this has created a "dangerous mass-hysteria environment right now in Western Europe and the US where everyone is attributing everything to Islamic extremism or right-wing extremism…" This in turn ignores the border between being a radicalized youth and actually doing jobs for IS.
To political analyst Catherin Shakdam, this creates a plethora of dangers for many migrants, especially underage youths.
"[The situation needs to approached] very carefully and we need to be quite levelheaded as to where we point the finger until we establish guilt," she told RT. "Children would be criminalized because we would assume that they are potential terrorists… We stand the risk of playing into the hands of ISIS by making them bigger and actually more effective than they truly are."