Turkish naval ships & choppers reportedly missing since botched coup, Turkey Deputy PM denies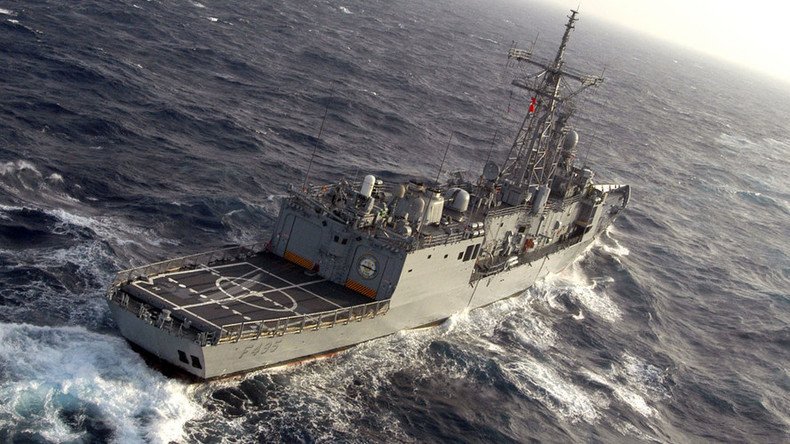 Turkey's navy is still unable to account for 14 ships, while two helicopters with 25 special forces troops are also missing since an unsuccessful coup plot against the government. However, Deputy PM Numan Kurtulmus has denied any naval vessels are unaccounted for.
With suspicions growing that the commanders of the vessels could have been behind a coup plot against the Turkish government and are now seeking asylum at Greek ports.
The ships were on duty in either the Aegean or the Black Seas on Friday before the coup to oust President Recep Tayyip Erdogan took place. However, they have failed to return to port, though in theory radar and satellite tracking technology should be able to determine their locations, according to a report in the Times newspaper.
It is believed that the ships could be heading towards Greek ports.
The Turkish deputy prime minister, Numan Kurtulmus, has dismissed reports that any naval vessels have gone missing. However, he did not give any further details as to their current location.
Eight Turkish military officers have already sought asylum in Greece after landing in the country on Saturday, where they were subsequently arrested.
The Turkish ambassador to Greece, Kerim Uras, has told the Greek authorities that the soldiers who fled to Greece will have a "fair and transparent trial in Turkey."
He added that if the soldiers are not returned Turkey, this would not help bilateral relations between the two countries.
Meanwhile, the fate of the commander of the Turkish Navy Admiral Veysel Kosele, who has not been heard from since the attempted coup took place, is still unknown. It is also unclear if he took any part in the action against the president or whether he is being held against his will.
According to reports within the Turkish media, Admiral Kosele was tricked onto his ship by those supporting the coup who told him that a terrorist attack was taking place.
Two helicopters and 25 Special Forces troops are also missing since the failed coup, according to a report by the Hurriyet newspaper. It was reported that they were heading for a raid to target Erdogan in Marmaris, where he was enjoying a vacation.
A spokesman for the Turkish president said on Tuesday that 14 soldiers have been detained over the attempted attack on the head of state, but some of the group are still at large, Reuters reports.
The EU and NATO both said they do not know anything about the missing vessels or planes, the chief spokesperson for the European Commission, Margaritis Schinas, told journalists on Tuesday. Meanwhile, the Greek Defense Ministry says it is unaware of any Turkish ships that have tried to enter its ports following the attempted coup.
"We are looking out for every ship. We had information from talks that took place that at one point they wanted to enter Greece's territorial waters. However, this did not happen," a source told RIA Novosti.
The most senior military figure to be arrested since the coup, General Akin Ozturk, the former air force chief, has already appeared in court. He has denied being the mastermind behind the plot.
Meanwhile, a purge of various Turkish government institutions has been taking place following the failed coup d'etat. Prime Minister Binali Yildirim says 7,543 people have so far been detained, including 6,038 soldiers. A court also remanded 26 generals and admirals in custody on Monday.
A senior security official told Reuters that 8,000 police officers, including in the capital, Ankara, and the biggest city, Istanbul, had been removed from duty.
About 1,500 Finance Ministry officials had been suspended, a ministry official said, and CNN Turk said 30 governors and more than 50 high-ranking civil servants had been dismissed. Annual leave was suspended for more than 3 million civil servants, while close to 3,000 judges and prosecutors have been suspended.
You can share this story on social media: