'People want these terrorists dead': Erdogan ready to reintroduce death penalty after failed coup
Published time: 19 Jul, 2016 01:01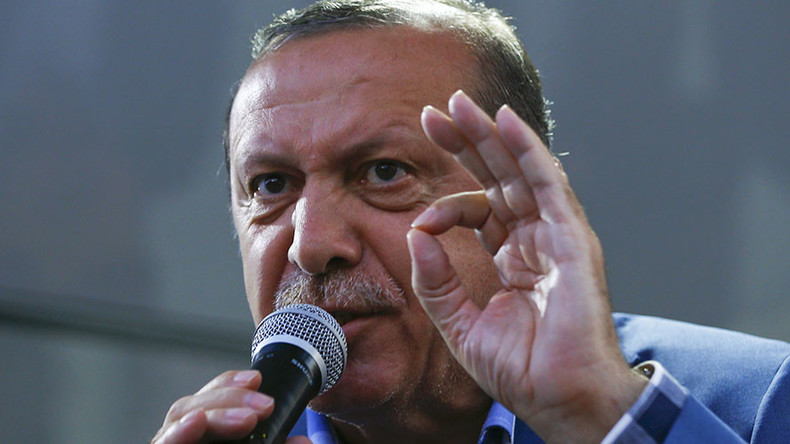 Turkish President Recep Tayyip Erdogan has not ruled out the possibility of bringing back the death penalty in Turkey, saying that "people on the streets have made that request" and are calling for the punishment of suspected plotters for the attempted military coup.
RT'S LIVE UPDATES on the attempted military coup in Turkey
"There is a clear crime of treason and your request can never be rejected by our government," Erdogan said in an interview with CNN on Monday, referring to the government supporters who took to the streets of Turkey who voiced approval.
"But of course it will take a parliamentary decision for that to take action in the form of a constitutional measure so leaders will have to get together and discuss it and if they accept to discuss it then I, as president, will approve any decision that comes out of the parliament," he added.
Turkish people have condemned the attempt to bring down the official government and have spoken in favor of reintroducing capital punishment for thousands of soldiers and officers standing behind the failed coup.
"The people on the streets have made that request," Erdogan told CNN. "The people have the opinion that these terrorists should be killed ... why should I keep them and feed them in prisons for years to come, that's what the people say."
"They want a swift end to it, because people lost relatives, lost neighbors, lost children ... they're suffering so the people are very sensitive and we have to act very sensibly and sensitively," he added.
The possibility of reinstating the death penalty has raised concerns among Turkey's western allies who said that this would certainly prevent Turkey from joining the European Union, EU foreign policy chief Federica Mogherini said on Monday.
The death penalty was abolished in Turkey in 2004 as this had been one of the conditions necessary for it to join the bloc, though nobody has been executed since 1984.
Around 6,000 people, including three Turkish top generals and hundreds of soldiers, were detained during the investigation launched after Turkish authorities had taken back the control over the situation in the country, Justice Minister Bekir Bozdag said on Sunday.
Around 3,000 judges and prosecutors were suspended from their posts as well.
"The cleansing (operation) is continuing. Some 6,000 detentions have taken place. The number could surpass 6,000," Bozdag said, adding that criticism of the government's crackdown on those arrested is tantamount to supporting the attempt to overthrow it.