North Korea fires 3 ballistic missiles – S. Korea military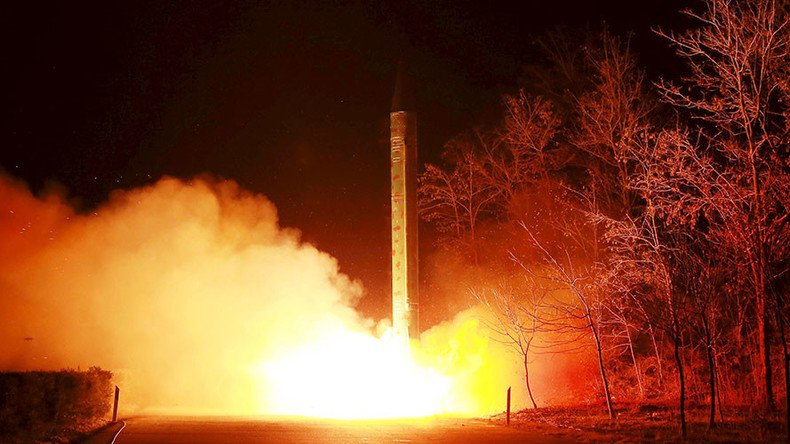 Pyongyang launched three missiles Tuesday morning in the latest in a set of controversial ballistic tests, according to South Korea's military, which claimed the projectiles had a range of up to 600 kilometers (360 miles).
The three missiles were launched from the North's east coast into the sea at between 5:45am and 6:20am local time. The missiles, presumed to be Scud-types, have enough range to reach all of South Korea, South Korea's Joint Chiefs of Staff (JCS) said, adding that South Korea's military is keeping a close eye on the developments.
#BREAKING North Korea fires three ballistic missiles, says South Korea military

— AFP news agency (@AFP) July 18, 2016
Previously, South Korea's Ministry of Unification warned that the North was "fully prepared" and could conduct a fifth nuclear test. Despite UN sanctions and strong international condemnation, North Korea conducted nuclear tests in 2006, 2009 and 2013, with the latest one being in January of this year.
"North Korea seems to be fully prepared to carry out a nuclear test at any time (when the order is given by its leader Kim Jong-un). South Korea is closely monitoring every move at the North's test site in close cooperation with the United States," unification ministry spokesman Jeong Joon-hee said at a regular press briefing.
Over the weekend, American intelligence reports and South Korean data revealed an increase in activity at the North's nuclear test site in Punggye-ri, Yonhap news reported.
The test comes after a US announcement made earlier this month which stated that it would deploy the Terminal High Altitude Area Defense (THAAD) system to South Korea "as soon as possible".
"South Korea and the US have made the joint decision to deploy the THAAD system with US Forces Korea as part of a defensive action to guarantee the security of the Republic of Korea and our people from North Korea's nuclear weapons, weapons of mass destruction and ballistic missile threats," the Ministry of National Defense said.
Washington and Seoul insist that the system is necessary to protect American allies from a potential missile threat from North Korea, but the plan was criticized by both China and Russia, which said such a move would upset the balance of power in the region.
You can share this story on social media: