Violent, obsessed with sex, dated 73yo man: Phone records, witnesses expose Nice attacker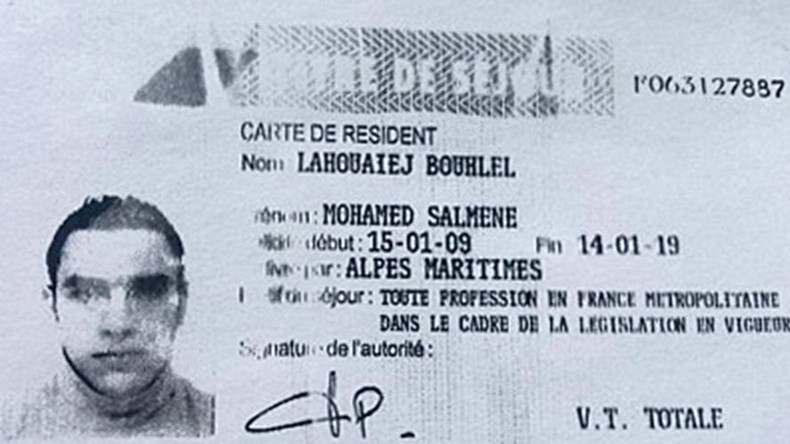 The latest findings suggest that Mohamed Lahouaiej Bouhlel, the driver of the truck that killed at least 84 people in Nice last week, was an unlikely jihadist, who ate pork, and reveled in alcohol, drugs, and sexual relations with both women and men.
Obsessed with sex
"This terrorist can be described as sexually obsessed as follows from testimonies of his several [sexual] partners, male and female," a source close to the investigation told Le Parisien newspaper.
The names of several of Bouhlel's conquests, both male and female, were found on his mobile phone. Most of these people were interviewed, with the most surprising on the list being a 73-year-old man, who appears to have been Bouhlel's lover for some time.
Citing its own sources, BFM TV reported that police also discovered a variety of photographs of Bouhlel's partners on his phone, again of both sexes, and of different levels of nudity. His web-search history was of a corresponding nature, containing sites with either sexual or violent content.
Violent and abusive
"[Bouhlel] visited sites exposing propaganda scenes of violence," the source claims.
Analysis of both Bouhlel's cell-phone and computer revealed he especially frequented websites exposing beheadings and other types of executions.
The attacker had a history of violence and abuse himself. His wife and the mother of their three children, Hajer Khalfallah, recently left him, and was extensively questioned on the cause of the separation by investigators.
"She had suffered repeated beatings from her husband, physical abuse and harassment. The divorce was pending. He also hit the mother of my client, his mother-in-law. Complaints had been filed on the matter," the woman's lawyer told Le Parisien.
Bouhlel's sister and father, who both live in Tunisia, claimed he was sick and had psychological problems which led to a nervous breakdown in 2004.
"He'd get angry and shout and break everything around him. He was violent and very ill. We took him to the doctor and he was put on drugs," his father Mohamed Mondher Lahouaiej Bouhlel told the press, displaying medical papers from 2004 that pointed to his son's disturbed mental state.
The man was apparently prescribed drugs to keep his violent fits of rage in check.
His neighbors spoke of Bouhlel as of an insignificant man with criminal inclinations, mostly spending his time bodybuilding, drinking alcohol and dating.
One neighbor recalled the moment that he heard Bouhlel warning someone, "one day, you'll hear about me," not long before the tragedy in Nice.
Prone to alcohol and non-religious
According to his father, after moving to France, Bouhlel had "no connection with religion. He did not fast or keep Ramadan. He drank. He even took drugs."
Citing witness accounts, BFM TV claims the 31 year old enjoyed alcohol and drank a lot, even during Ramadan, the main Islamic religious holiday, ate pork and spent more time in a gym than in a mosque.
Bouhlel's web-search records did show quite a few requests for gyms and salsa classes, and his selfies suggest he was in a good physical shape.
Despite Islamic State (IS, formerly ISIS/ISIL) claiming that Bouhlel had been one of its soldiers, investigators are finding it increasingly difficult to match facts about the man's personal life to his alleged connection with radical Islam.
According to one of his relatives, BFM TV reported, Bouhlel's speech had changed not more than two weeks prior to the attack. He then had stopped drinking and let his beard grow.
Authorities are convinced Bouhlel was radicalized, but also say it probably happened rather recently. French Prime Minister Manuel Valls on Sunday said the attack was of an "Islamist nature," claiming that "we know now that the killer was radicalized very quickly." So far the investigation into the case has been moving steadily, with over 200 experts working just on identifying the individuals in Bouhlel's phone book.
WATCH MORE: