World's six top fat-cat states host less than 9% of refugees – Oxfam report
Published time: 18 Jul, 2016 08:56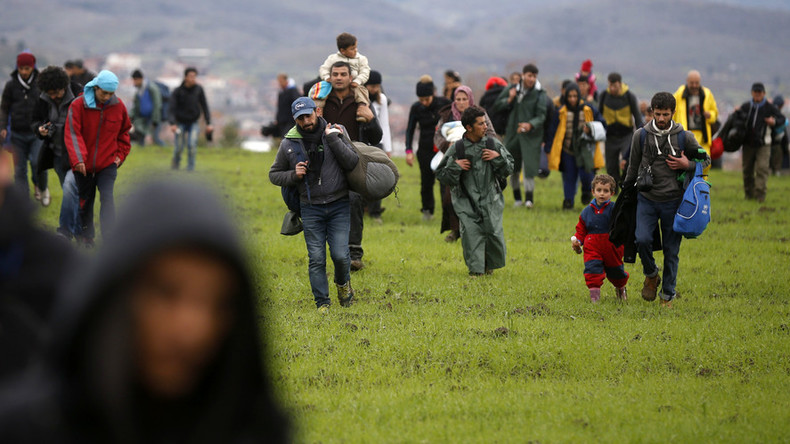 Six countries controlling over half the global economy are the least welcoming to refugees, accommodating just about 9 percent of the 21 million and leaving their less successful partners to deal with most of the influx, Oxfam has found.
Using the latest available UN figures and the World Bank's ranking of countries in terms of economic wealth, the UK-based NGO calculated that the United States, China, Japan, Germany, France, and the United Kingdom collectively took in some 2.1 million refugees and asylum seekers in 2015, making up just 8.88 percent of the world total.
Of these 2.1 million, one third, 736,740, were accepted by Germany and a fourth, 559,370, by the United States, while the UK took in only 200,000, which Oxfam chief executive Mark Goldring called shameful.
At the same time, poorer states like Jordan, Turkey, Pakistan, Lebanon, South Africa, and Palestine host more than 50 percent of the world's displaced (11,932,244), while holding less than 2 percent of the world's wealth.
Oxfam says these figures are meant to show how much more can be done by richer nations to help people fleeing violence and conflict.
"In 2015, the six wealthiest countries gave almost $2 billion in aid to the UNHCR. Such aid is vital as it provides refugees with [essentials]. But providing aid cannot absolve rich countries from their moral and legal responsibilities to welcome more refugees," the agency states.
"While some richer countries have provided some refugees with a new start, the number of people they have welcomed in this way is extremely small compared to the numbers of refugees hosted by other countries. The world's richest countries can and should do much more to help the world's most vulnerable people who have fled their homes because of violence and conflict," the report suggests.
Apart from the 21.3 million refugees, over 40 million more people have been displaced by conflict and violence, according to the same UN figures. These people have mostly resettled within their own countries, but Oxfam stresses that the fact they have stayed in their homeland doesn't mean the conditions in which they live are acceptable in terms of human rights and international law.
The agency points out that, due to the unprecedented numbers of those displaced and the scale it has taken, the current refugee crisis cannot be solved by single-handed efforts, and the global community should work together to tackle it.
"Every government of course has a right to maintain its country's security. But this must be exercised alongside the responsibility to uphold international law to protect refugees. Whenever governments, in whatever country, turn their backs on refugees it puts some of the most vulnerable people in the world in dangerous and frightening situations.
"It is a complex crisis that requires a coordinated, global response with the richest countries doing their fair share by welcoming more refugees and doing more to help and protect them wherever they are," the report stresses.
READ MORE: Swiss commune calls not to rent homes to refugees, fears financial disaster
The report comes ahead of two major International summits that will focus on the refugee crisis. In September, UN Member States will meet in New York for the first UN Summit on Large Movements of Refugees and Migrants, and then world leaders are to meet at the invitation of US President Barack Obama, also to discuss the refugee challenge.
"Ahead of the summits, Oxfam is calling […] on governments to not only host more people in need of safe havens, but to commit to do more to help the developing countries sheltering the majority of refugees and protect all people on the move," the agency states.
Oxfam is an international NGO consisting of 18 organizations working in approximately 94 countries that aims to find solutions to what it considers injustice and enable people to flee violence, conflict, or persecution, as well as exercise their rights and manage their own lives.