Social media star strangled in Pakistan, brother confesses to 'honor killing,' has 'no regrets'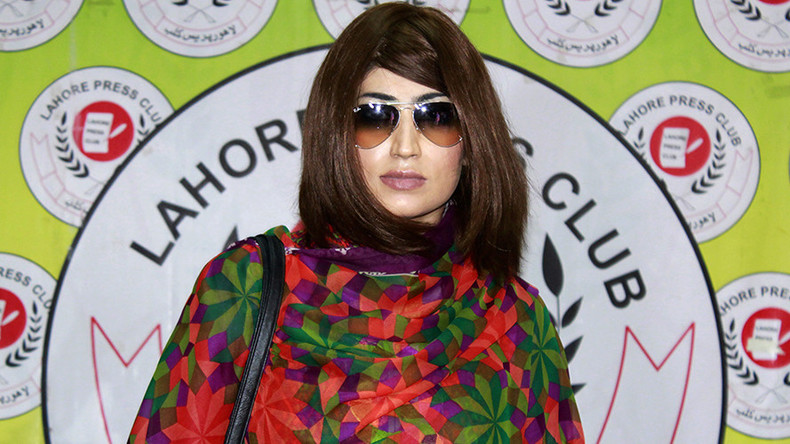 Pakistani social media celebrity Qandeel Baloch has been strangled to death by her brother, who eventually admitted to having committed the crime. The young woman's posts defied tradition in Pakistan and defended liberal views.
Baloch's brother, Muhammad Waseem, admitted to strangling the young woman after giving her a pill to subdue her. "I have no regrets," he told reporters at a press conference organized by police, as quoted by Reuters.
Waseem said he murdered his sister because of her social media activities, including posting a video in which Baloch sits on the lap of a prominent Muslim cleric.
"Qandeel Baloch has been killed; she was strangled to death by her brother. Apparently it was an incident of honor killing," Sultan Azam, a senior police officer in Multan, told AFP.
The nature of the killing has been confirmed by local security forces.
The young woman had traveled with her family to the village of Muzzafarabad in central Punjab province for the Eid holiday and was murdered there on Friday, according to police.
Some 100 policemen and five ambulance vehicles gathered around her house in response.
"My daughter was innocent. We are innocent. We want justice. Why was my daughter killed?" Baloch's father, Azeem Ahmad, told journalists.
He added in a written complaint that his son had killed Baloch to redeem his family's honor, as he "wanted her to quit showbiz."
Baloch's real name was Fauzia Azeem. The 26-year-old became famous after a video of her pouting at the camera and asking "How em looking?" went viral worldwide two years ago.
The young woman was known for breaking Pakistan's social taboos, defying tradition, and defending liberal views.
In her last interview, she spoke out about being married against her will at the age of 17 to "an uneducated man" with whom she had a child, adding that they had later divorced.
Baloch had asked the Pakistani authorities for protection, but her request was ignored, according to Dawn media outlet.
Baloch was a social media celebrity with more than 750,000 Facebook subscribers, some 51,000 followers on Instagram, and about 43,000 Twitter followers.
Thousands took to her pages to express sorrow and shock following her murder.
"No one has the right to take anyone's life!" a commentator wrote, while another pointed out that murder is at odds with the Islam.
"Do you realize how unIslamic nay inhumane, murder is? The power to give and take life is in the hands of God... and when measly 2 bit human beings take it upon themselves to take another's life, it is an abomination. It is unnatural."
However, others posted insults, accusing the young woman of "immorality" and doing "each and every vulgar thing for money."
Honor killings are frequent in Pakistan, where hundreds take place every year. Most murderers aren't punished in those cases, however, as Pakistani legislation allows the family of a victim to forgive the killer, who is very often also a relative.