Huge blast rocks arms factory near Aleppo as ISIS, Al-Nusra shell city & attack Syria troops (VIDEO)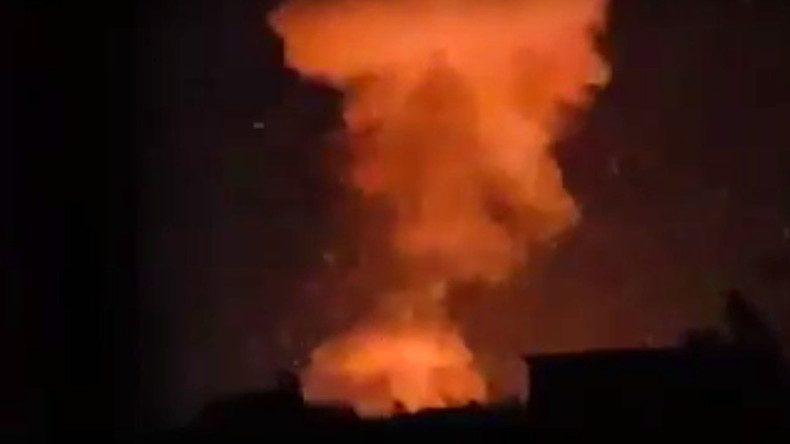 Terrorists shelled parts of the Syrian city of Aleppo with rockets, killing at least five and injuring another nine people on Saturday. Meanwhile, a massive explosion was seen at a military plant outside Aleppo, with blasts heard in a 100km radius from the site.
Al-Nusra Front and Islamic State (IS, ISIS/ISIL) militants opened fire at residential areas of Aleppo city, Russia's center for reconciliation of opposing parties in Syria reported. The militants hit the city's neighborhoods of Halab, al-Jalid, al-Asad, Sheikh Maqsood, al-Khalidiyah, Old Ashkhaba, al-Zahraa and airport with rocket fire.
Five missiles landed in the city's main square near the municipal palace killing three people and injuring six more, Syria's state SANA news agency reported. Al-Shahbaa and al-Andalus neighborhoods have also came under heavy terrorist shelling with 10 rockets fired by the militants killing two women and inflicting injuries on another three.
READ MORE: 'I'm ready, you're ready, let's go!' Kerry sits down for Syria talks with Putin in Moscow

The terrorists have also carried out attacks on various settlements in Aleppo province, targeting Naqqarin, Braidge al-Rih, and Tell Jobegja inhabited areas.
The militants attempted to mount an offensive on Syrian armed forces positions northwest of Aleppo as four suicide car bombers were deployed to hit the government's positions, Russia's Defense Ministry reported, noting that assault did not succeed.
"All attacks have been repelled. The terrorists have been eliminated," it said in a statement.
Meanwhile, a massive explosion rocked the defense factory located in the city of Al-Safira, some 16 kilometers south of Aleppo. Witnesses report the sounds of an explosion were heard as far as 100 kilometers from the site, which is one of the major arms factories in Syria. Four helicopters appeared to have been caught in flames following the set of blasts.
Conflicting reports have emerged as to what caused the explosion. The technical error might have led to the accident.
Al-Safira has seen violent clashes earlier this year. In February, the Syrian Army, supported by Russian air strikes, has recaptured Al-Safira Plains, regaining control over a thermal power plant. The town of Safira is of strategic importance as it is located on the road connecting Syria's capital Damascus to Aleppo.