Tourists stranded in chaotic aftermath of Turkey's attempted coup
Published time: 16 Jul, 2016 15:26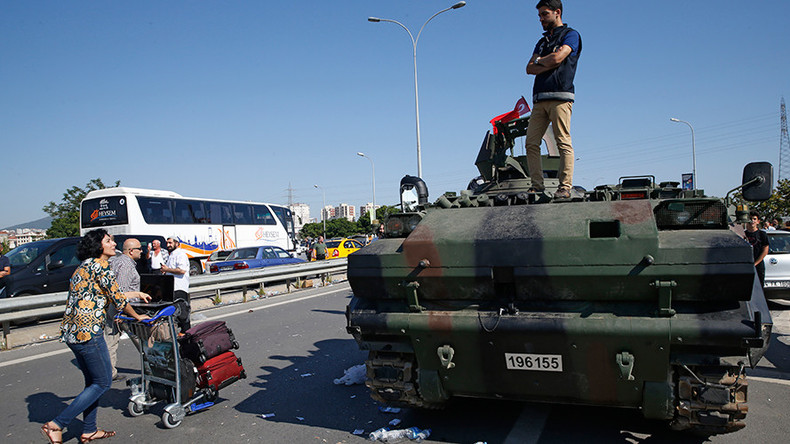 Turkey's attempted coup on Friday night has left tourists facing uncertainty and travel chaos as many flights in and out of the country have been canceled or diverted.
Many travelers in Turkey have been stranded after a mass of flight cancellations amid the upheaval on Friday night.
According to Flight Radar, a limited number of flights were departing and landing at Ataturk and Sabiha Gokcen early Saturday morning. Meanwhile, flights at Antalya and Izmir Adnan Menderes were experiencing delays and Ankara Esenboga had no flights departing.
Eurocontrol, the European traffic control agency, reported that airport staff at Ataturk said they would start international departures on Saturday morning, but that the "situation is unclear."
According to Gov.UK, some flights have been diverted and canceled.
The US Embassy in Ankara said flights to Ataturk airport are open, but warned "security at Ataturk airport is significantly diminished."
However, US airline carriers are currently prohibited from flying to or from Istanbul or Ankara, and flights coming from Turkey or via a third country are also prohibited from entering the US. This leaves US travelers in Turkey unable to go home.
Passengers are experiencing confusion and uncertainty about when they will be able to return to the US.
Turkish Airlines were due to resume flights at 11 am GMT on Saturday, Reuters reported. However, the airlines' phone number appears to be down.
British Airways have canceled all flights scheduled for Saturday. "In light of the events unfolding in Turkey, all flights have been cancelled today," a spokesperson said. "We are keeping flights to Turkey under review. The safety and security of our customers and colleagues remains our top priority at all times."
Travelers who had earlier plans to head to Turkey over the coming days are now very unsure whether it is safe to do so, and are being advised by various foreign offices and tour companies to monitor the situation and contact their travel agent.
Indian travelers have been advised not to travel to Turkey until there is stability.
Travel company Thomas Cook is offering free cancellations and amendments for those traveling to the country in the next few days. More than 2.5 million British visit Turkey each year. Similarly, Thompson has said it will offer refunds for people who were planning to travel to Turkey today, but that its flights will operate as normal.
EasyJet said it has no plans to cancel flights: "We are liaising with the Turkish and British authorities."