#TurkeyCoupAttempt: How it developed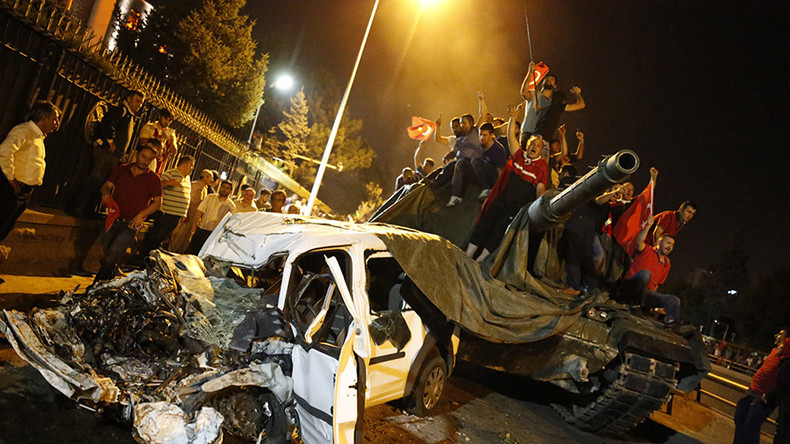 As the Turkish government insists that the situation is now under control and promises the plotters will pay a heavy price, RT sums up the key events that unfolded during the military coup attempt, which has resulted in at least 265 dead and 1,140 wounded.
LIVE UPDATES: Arrests after coup attempt in Turkey

How it started
The uprising began in Ankara and Istanbul, Turkey's two major cities. In Ankara, military aircraft were seen flying low overhead, attacking the National Intelligence Agency's building and police special forces HQ. Tanks also opened fire around the parliament building in the capital.
In Istanbul, tanks and armored fighting vehicles fanned out throughout the city. Tanks were seen outside the main airport, Ataturk, and military trucks blocked the bridges across the Bosporus.
Fighting also broke out between pro-coup and anti-coup forces inside General Staff headquarters. Chief of Staff, General Hulusi Akar, was detained by pro-coup soldiers and reportedly taken by helicopter to Akincilar air base northwest of Ankara. He was rescued from captivity later on Saturday.
The military's coup faction declared martial law in the country. Pro-coup soldiers entered the office of state broadcaster TRT TV and the ruling AK party, telling employees to leave.
Military plotters, calling themselves a "Peace Council," said in a statement read out later on state TV channel TRT that they sought to "reestablish constitutional order, democracy, rights and freedoms," while promising to maintain "good and friendly relations with countries."
The plotters urged people to stay where they were for their own safety. There have been reports that some Turks rushed to stockpile food and water, and photos on social media showed crowds trying to withdraw cash from bank machines fearing an administrative meltdown in days to come.
RT Gallery: Military coup attempt in Turkey
Turkish authorities' response
Shortly after the coup attempt began, Turkish Prime Minister Binali Yildirim said the uprising "was an illegal act by a group within the military that was acting out of the chain of military command," saying those behind the plot would pay the highest price, according to AP.
Following the PM's statement, Turkish President Recep Tayip Erdogan made his first appearance through a FaceTime app from an undisclosed location on an iPhone held up to a TV camera by a CNN Turk reporter. "We will overcome this," he said, telling his supporters: "Go to the streets and give them their answer."
The government appointed General Umit Dundar, 1st Army commander, as acting chief of the Turkish armed forces, as the whereabouts of General Akar was unknown at the time. General Dundar said the military did not support the coup, adding that he was in close contact with Istanbul authorities.
Erdogan, who unexpectedly landed in Istanbul, addressed a sizeable group of supporters outside Ataturk International Airport. He said the coup had been undertaken by "traitors" representing "a minority within our armed forces." Erdogan stressed that there would have to be a military "clean out," blaming Fethullah Gulen, an opposition cleric living in the US, for orchestrating the coup and "betraying" the nation.
The Turkish President's defiant speeches led to chaotic scenes, as thousands of pro-government supporters took to the streets. Police and security forces engaged in a firefight with pro-coup soldiers, resulting in dozens of deaths.
The coup's aftermath
Early on Saturday morning, the coup attempt largely crumbled, as the soldiers involved began laying down their weapons.
According to conflicting reports from authorities, about 265 people have been killed, including 104 pro-coup military members, while 1,440 people were injured in violence in Istanbul and Ankara.
Turkish authorities have detained 2,839 military personnel across the country, according to the Turkish Prime Minister. It was reported earlier that at least 29 colonels and five generals were among those arrested. Rear Admiral Nejat Atilla Demirhan and General Memduh Hakbilen, Chief of Staff of the Turkish military's Aegean command, were said to be among them.
The government will consider changing the constitution to restore the death penalty, PM Yildirim noted later on Saturday.
The coup attempt marks Turkey's first military uprising since 1997, when several influential army generals forced Islamist Prime Minister Necmettin Erbakan to resign. The army demanded secular institutions be restored and religion be separated from state.
WATCH MORE: