Russia's security service to punish academy graduates after scandalous luxury car parade in Moscow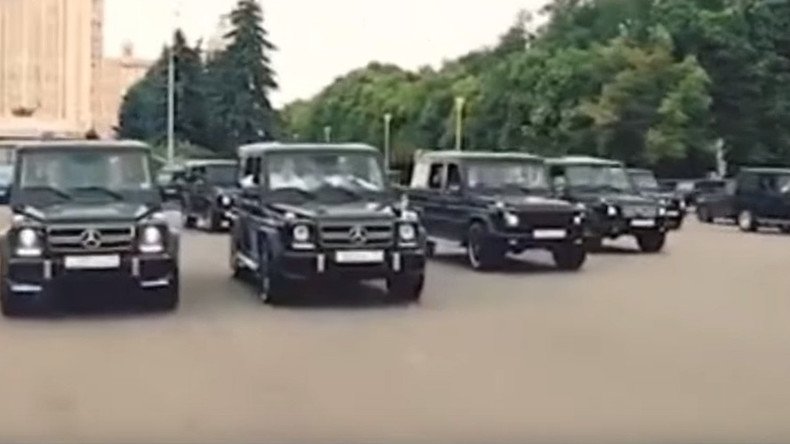 Russia's Federal Security Service (FSB) has promised to penalize its new agents, who celebrated graduation from the agency's academy by driving through Moscow in a convoy of luxury Mercedes SUVs and caused public outcry after videos of the joyride made it online.
"For the first time in many years of celebratory events outside work, students allowed actions, which attracted heightened public scrutiny, to take place," the FSB, which provides internal and border security and fights terrorism, said in a statement.
The agency stressed that the Russian public had every right to complain about the transgression of the FSB Academy graduates.
"Their indecorous demonstrative personal behavior linked to a short-term hiring of luxury vehicles caused a rightful outrage among citizens and was harshly condemned inside the security services as incompatible with the code of ethics and service behavior," it said.
The FSB said that it conducted an enquiry into the joyride and decided to punish those involved as well as their superiors.
"With regard to the perpetrators, principal personal decisions to change conditions of their service have been made. Strict disciplinary actions are applied to the executive staff of the Academy, with some of the high-ranked officials being demoted and other dismissed," the agency said.
READ MORE: Russian 'Rat Pack' play cat-and-mouse with police, broadcast chase on Periscope (VIDEO)
In early July, the FSB newbies cruised the streets of the Russian capital in black four-wheel drive G-Wagens, blocking traffic in their lane several times, while honking their horns for no reason.
To help a cameraman take some great shots, they formed a long line from time to time, making it difficult for other vehicles to pass by safely.
Meanwhile, young men in white kept protruding from the car windows, joyfully shouting and waving to each other while taking pictures and videos on their cell phones. The footage of the parade was later posted on the internet by both witnesses and participants.
The videos caused outrage not only among internet users, but also among acting and veteran security professionals.
"For four years they were taught conspiracy, corporate ethics and that one must not reveal secrets. So pompous and arrogant. If that's how they start their careers, they won't do any good," retired FSB Major-General Aleksandr Mikhailov told the Komsomolskaya Pravda newspaper.
You can share this story on social media: