Panic & chaos in Nice: Terrifying videos show immediate aftermath of truck attack (GRAPHIC)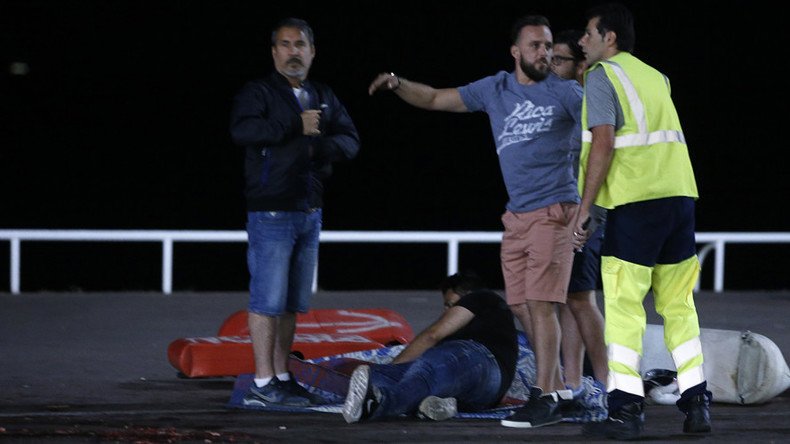 The horrifying aftermath of a truck plowing into a crowd in Nice during a Bastille Day celebration was captured on video following the rampage in which dozens of people were killed.

People were seen grabbing their children and running as sirens echoed in the background in one video.
Crowds of tourists had gathered for the holiday to watch fireworks as the truck rammed into people, causing panic and mayhem on the streets.
In another video, hundreds of people screamed and panicked as they ran from the scene of the attack.
Other mobile footage captured crowds of people rushing to safety, with one woman pushing a baby's pram while she moved.
Witness Oymou Diallo, who was on the promenade at the time of the attack, told RT how the panic unraveled. She didn't hear the sound of explosion or gunfire, as she was too scared for her life to pay attention to what was going on around her.

"We were just at the promenade looking for the fireworks for the 14th of July and then people just began to run, we don't know why. So we began to run too and people said it may it's a bomb or maybe it is terrorism, so we were just afraid and began to run too."
"We [didn't] really see anything, because we began running into the town."

Police at the scene have not shared much information about the incident, she added.

"They just gave us advice that we have to stay home, we are just looking at the other information and watching TV."

"It's the scariest moment of my life, but I didn't realize it even, I was just running with people and when I even started running I didn't know what was going on in the moment," she said, adding that she was still expecting more information from the authorities.
Graphic photos and videos also showed dozens of dead bodies strewed across the road as onlookers helplessly tried to attend to those injured.
In a matter of minutes, the hashtags #PrayForNice and #Nice06 were trending, with people from across the world sending their thoughts and prayers for the victims of the attack.
READ MORE: Dozens reported dead as truck plows into crowd in Nice, France (GRAPHIC IMAGES)
You can share this story on social media: