Russia creates aircraft engine for 6th-generation space planes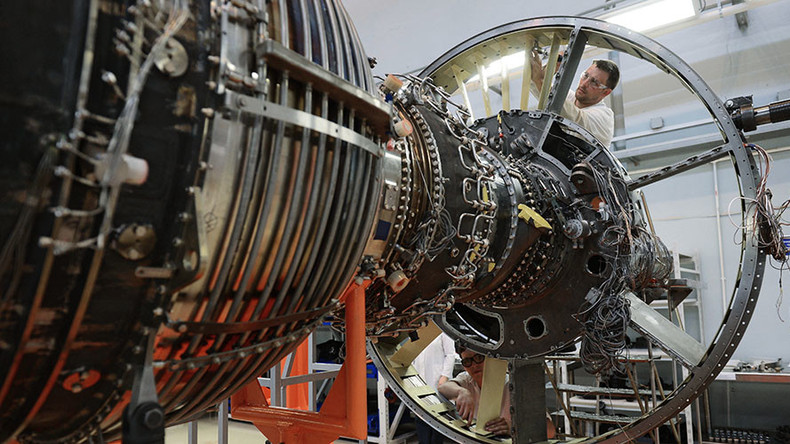 Russia has successfully created a "combined aircraft engine" that will allow sixth-generation space planes to fly in both Earth's atmosphere and near space at hypersonic speed, the commander of Russia's Strategic Rocket Forces (RVSN) has announced.
"An engine for a promising space plane has been developed at Strategic Rocket Forces Academy," General Sergey Karakaev, RVSN's commander, told reporters on Wednesday.
"The know-how allowed us to create a combined [aircraft] power plant that enables switching the engine from an atmospheric flight mode to a rocket mode while flying in space," he said, as cited by TASS.
The engine will be on display at Russia's grand international arms expo, Army 2016, in September, General Karakaev said, adding that the new engine had "proved operational" in live tests.
He did not elaborate on the type or design of aircraft that might make use of such an engine, but its advanced capabilities allowing flights to near space and back indicate it could be earmarked for a sixth-generation fighter jet. Earlier media reports have stated that research and development of a 6G jet is in progress in Russia.
While not much is known about Russia's cutting-edge fifth-generation T-50 jet, there is even less information on the concept for a 6G fighter. Air Force Commander General Viktor Bondarev said in March that a 6G jet is being designed in both manned and unmanned versions.
He noted that the human body "has its limits," while an unmanned 6G jet's avionics and flight control systems "are much more functional and can withstand any G-force."
On Tuesday, a senior military industry official shed more light on the enigmatic yet revolutionary Air Force project.
"The main principle of deploying this aircraft is a so-called swarm… There will be one or two manned aircraft in the group, the others will be unmanned," Vladimir Mikheev, who is an advisor to the deputy head of the Radioelectronic Technologies Concern [KRET], Russia's largest military electronics manufacturer, told TASS.
The capabilities of unmanned 6G jets would far surpass those of the fifth-generation aircraft, he added. Apart from reaching hypersonic speeds of about 4-5 Mach, it will be able to leave the atmosphere, penetrating near space, and then re-enter hundreds of miles away.
The 6G jet is also said to be armed with an electromagnetic gun capable of taking out an enemy aircraft's avionics and computer-manned weapons systems at ranges of up to 10 kilometers (6 miles).
A prototype is expected to make its maiden flight by 2025, according to TASS.
Russia is among very few countries that have invested in 6G jet projects while still developing 5G fighters. In 2011, Boeing said it was working on a 6G project for the US Air Force and Navy. Lockheed Martin and Northrop Grumman have also announced similar projects, which will be unveiled in years to come.