'Helping shape world order': New military roadmap seeks greater German defense role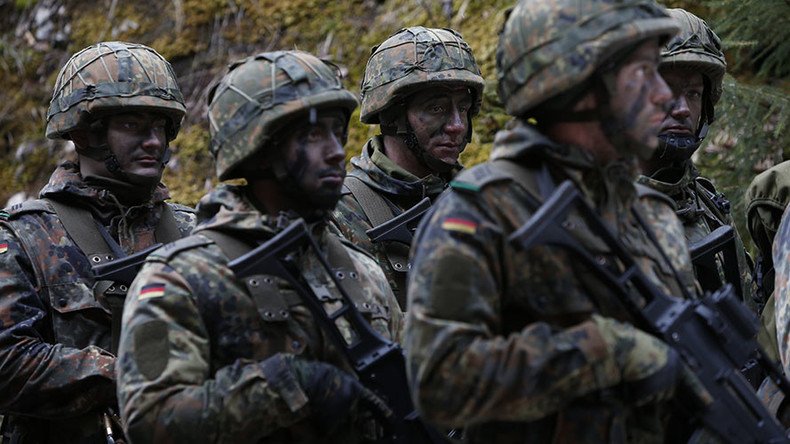 Germany is set to assume a greater defense role in NATO and the EU in a report set to be released by the country's Defense Ministry on Wednesday, which adds that Germany has "a responsibility to help shape the world order."
For decades Germany has refrained from being a major global player in regards to defense, instead preferring to remain on the periphery in part due to its guilt about its Nazi past and role in the Second World War.
However, that role has been changing and a report which is set to be published on Wednesday by Germany's Defense Ministry will outline the country's more assertive intention to have a greater role in the defense of NATO and the EU.
"Germany is increasingly seen as a key player in Europe," says a draft of the document seen by AFP.
"Germany, a globally highly connected country... has a responsibility to actively help shape the world order," it says, vowing that the country is ready to "assume responsibility" and "help meet current and future security and humanitarian challenges."
Germany has already showed it is willing to deploy troops in conflict zones, such as helping in peacekeeping missions in Afghanistan. It is also providing assistance in the fight against Islamic State (IS, formerly ISIS/ISIL) in Iraq, with around 250 troops and six tornado jets stationed at the Incirlik Airbase in southern Turkey.
However, German forces are not involved in any offensive capacity and are merely present in a supporting role to provide assistance.
At this month's NATO summit in Warsaw, Berlin said it would commit troops to rotating battalions that the alliance will station in the Baltic States and Poland to counter what it believes to be 'Russian aggression'.
Former German Chancellor Gerhard Schroeder has hit out at Germany's plan to lead NATO's Eastern European buildup, saying that Berlin is making "a serious mistake." On the contrary, he believes Germany should be doing its utmost to improve relations with Moscow.
He added that it was a "serious mistake" that Germany assumed leadership over NATO troops near Russia's borders "right on the [75th] anniversary of the German attack on the Soviet Union in June 1941."
The date of the Nazi invasion of Soviet Union, June 22, is marked in Russia annually to pay tribute to war victims and Red Army soldiers killed or missing in action.
The former chancellor also ridiculed the idea that Russia "may be nurturing a plan to invade NATO-countries," stressing that the notion is completely out of touch with the real state of affairs.
As part of the Eastern European deployment, the US will control a battalion of 1,000 troops in Poland, while the UK is sending 500 soldiers for a battalion based in Estonia, and Canada and Germany will lead two more in Lithuania and Latvia.
The German Foreign Minister Frank-Walter Steinmeier has also slammed NATO's policies of confrontation with Russia, such as holding military drills near its borders, saying they are counterproductive.
Rather than inflaming the situation further "through saber-rattling and warmongering," there ought to be more space for dialogue and cooperation with Moscow, Steinmeier said.
It would be "fatal to now narrow the focus to the military, and seek a remedy solely through a policy of deterrence," the German FM said, calling to turn to diplomacy instead of military posturing.
You can share this story on social media: