Police storm Stuttgart law firm after reports of gunman, find 2 bodies inside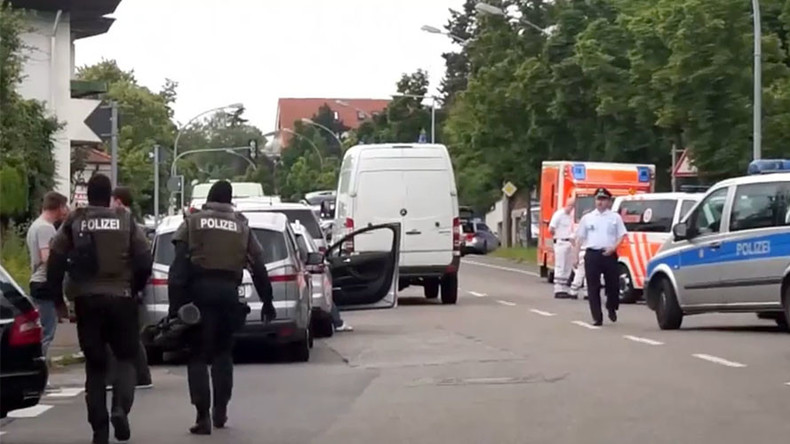 Police have stormed a law firm in Stuttgart after reports of an active gunman triggered a large-scale police operation. They found two bodies in the basement of the building, local media outlets report.
Police searched the entire building and found two dead men in its basement, apparently killed by gunfire, the Rheinische Post reported, citing a police spokesman. The details of the incident are still unclear.
Police believe one of the two dead men is the alleged gunman who had entered the building with a weapon, and the other is believed to be an employee or resident of the building. Police also claimed they did not use weapons during the raid.
Forensics experts have been called in to examine the bodies.
The dead men were a 75-year-old lawyer and a 67-year-old man from Frankfurt-am-Main, police revealed to local media on Monday night. Officials didn't initially comment on any connection between the two men.
Earlier reports spoke of a possible hostage situation.
A gun-wielding man is believed to have broken into a building in the eastern part of Stuttgart. It is believed to be a law firm.
"A witness had reported that an unknown person apparently holding a firearm entered a law firm, or at least a building with a sign of a law firm, here in Gerokstraße street," a police officer told Ruptly news agency.
A woman from a neighboring house is claimed to have seen the man enter the premises and called the police.
Police had secured the area around the building and suspended train services in the proximity of the alleged incident site, namely between Ruhbank (TV tower) and Olgaeck train stations.
Witnesses told local media that shots had been heard inside the premises, but police did not confirm this information.

Reports claimed two people were inside, the gunman and, possibly, a lawyer.
Around 100 officers have been taking part in the operation. Ambulances have also been called in to the site.
The residential area in the east of Stuttgart, where the incident took place, is an upscale district where several law firms are located.
You can share this story on social media: