China to 'eavesdrop' on alien life with giant, multimillion dollar radio telescope (VIDEO)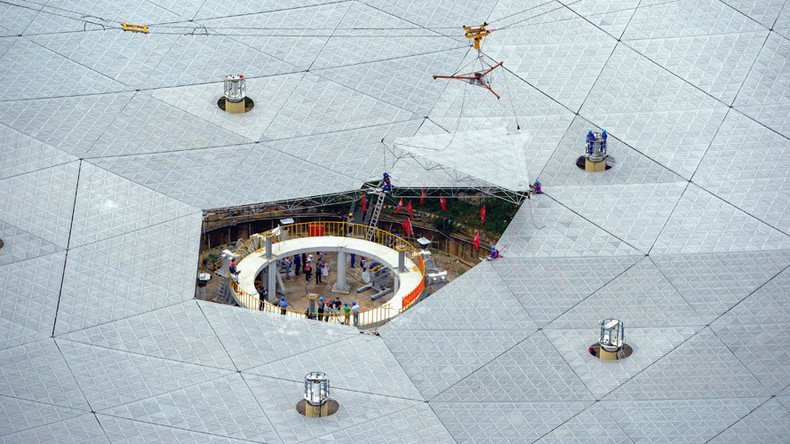 China has completed construction of the world's largest radio telescope, which required the resettlement of more than 9,000 people. It will be used to hunt for signs of alien life in deep space.
The Single-Aperture Spherical Radio Telescope (FAST), as it is known, is an enormous dish made up of 4,450 reflector panels with a diameter of half a kilometer and an area the size of around 30 football pitches, according to the Xinhua news agency.
It was completed in southwestern China's Guizhou Province on Sunday, when the last reflector was fitted into a natural bunker, which is situated among the mountains of Pingtang County.
The telescope is tasked with looking for intelligent life in deep outer space. Once up and running, FAST will be able to detect radio signals from as far away as one-thousand light years.
Work on the massive project began in March of 2011 and cost 700 million yuan ($105,385,980) to complete. The project was originally scheduled to be finished in September of 2016.
READ MORE: China to resettle more than 9,000 for building of world's biggest telescope

The radio telescope's diameter of 500 meters (1600-feet) makes it the largest single aperture telescope in the world. The previous record holder, Puerto Rico's Arecibo Observatory, has a diameter of 300 meters.
The telescope was built in a karst depression, which will protect it from electromagnetic disturbances.
READ MORE: 'Fast' & vast: China building world's largest 500-meter radio telescope

While China's National Development and Reform Commission may have found the perfect spot for the alien eavesdropping device, thousands of people who already lived there had to be sent packing to make way for the edifice.
It was reported earlier this year that the local residents had to be resettled to "create a sound electromagnetic wave environment" for the alien snooper.
Those displaced were given 12,000 yuan ($1,800) in compensation and moved to newly built accommodation.
You can share this story on social media: