Russia, Turkey back at negotiating table after 7-month crisis over downed jet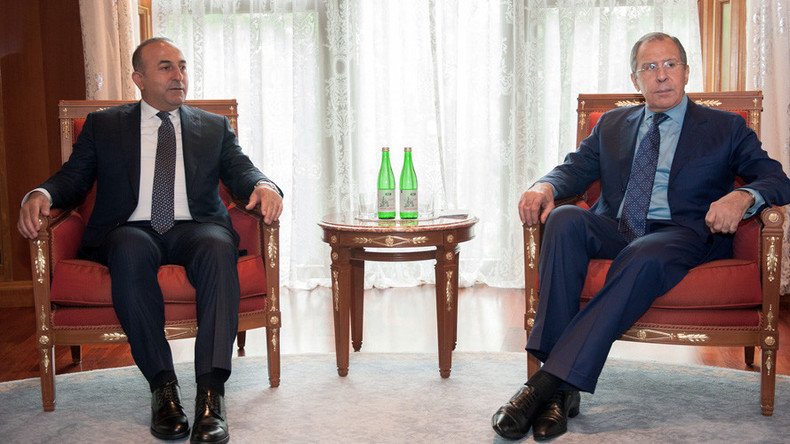 Russia and Turkey have begun discussions to restore ties following more than six months of political discord, with the foreign ministers of the two countries meeting in the Russian Black Sea resort of Sochi.
Normalizing relations between Russia and Turkey will start through establishing closer diplomatic contact, Russian Foreign Minister Sergey Lavrov said Friday following talks with his Turkish counterpart, Mevlut Cavusoglu.
"We agreed today with Minister Cavusoglu that such contact would be established in the nearest future," Sputnik quoted the Russian FM as saying.
Lavrov's Turkish counterpart agreed that the meeting in Sochi had been a constructive one, combining discussions of both bilateral and regional issues.
"We discussed bilateral relations and measures on how to return to the level we had before," Cavusoglu said, mentioning top-level contact between the two countries' presidents, prime ministers and foreign ministers. "This was a constructive meeting," the Turkish minister added.
Putting an end to the Syrian conflict topped the list of the regional issues discussed at the session, which took place on the sidelines of the Black Sea Economic Cooperation Organization (BSEC) Council of Ministers of Foreign Affairs in the Russian resort city of Sochi.
"We can discuss everything in the framework of our bilateral dialogue, even the most difficult issues, including the task of preventing the terrorist infiltration into Syria from abroad, the task of preventing the use of Turkish territory in support of terrorist organizations in Syria," Lavrov said.
Both Lavrov and Cavusoglu agreed that moderate rebels who want to avoid the offensive by Syrian troops and Russian airstrikes should withdraw their forces from areas controlled by Islamic extremists.
"Those who don't want to get hit need to leave positions occupied by Jabhat al-Nusra [Al-Nusra Front] and Islamic State [IS, formerly ISIS/ISIL]. If the patriotic opposition, constructive opposition, remains in areas controlled by terrorists, it needs to withdraw its units. Otherwise it will be considered an accomplice," Lavrov said, adding "our Turkish colleagues confirmed today that they absolutely agree with this logic."
Lavrov also told reporters that he and Cavusoglu have no disagreements over which groups should be considered terrorist "for the most part."
"In accordance with UN Security Council resolutions, the terrorist groups are Islamic State, Jabhat al-Nusra and various smaller organizations affiliated with them," Lavrov said.
The Turkish foreign minister agreed with Lavrov, saying that "if these disagreements do exist, we need to meet and discuss them with our Russian colleagues."
He added that "IS attacks Turkey because Turkey directly fights IS, including by helping the coalition and hindering foreign terrorists. We are truly killing the ideology of this terrorist organization."
The coordination of anti-terrorist efforts by Russia and Turkey has become of particular importance following the recent terrorist attack at Istanbul's international airport.
"Our joint efforts to combat terrorism have become more relevant," Lavrov said, adding that it was agreed to "promptly resume" the work of the two countries' counter-terrorist workgroup.
Russian-Turkish relations suffered a huge blow on November 24, 2015, when a Russian Su-24 bomber taking part in an anti-terrorist mission in Syria was brought down by the Turkish Air Force.
The plane crashed in rebel-held territory in Syria near the Turkish border. The pilots ejected, but one - Lieutenant Colonel Oleg Peshkov - was killed by machine gun fire from militants on the ground.
Turkish nationalist Alparslan Celik has claimed responsibility for Peshkov's death.
Ankara claimed it had attacked the Russian bomber for violating its airspace, but was never able to provide proof of any wrongdoing on the crew's part.
The incident led to the worst deterioration of Turkish-Russian relations in recent history, with Russia describing it as a "stab in the back."
On Monday, Kremlin spokesman Dmitry Peskov announced that Turkish President Recep Tayyip Erdogan had apologized for the downing of the Russian bomber in a letter addressed to Russian President Vladimir Putin and extended his condolences to the family of the pilot who was killed.
On Wednesday, Presidents Putin and Erdogan held a phone conversation.
"We hope that these contacts, taking place after the letter that President Putin received from President Erdogan following talks over the phone, will set the right tone for practical efforts on normalizing our relations," Lavrov said in Sochi after the meeting with his Turkish counterpart.
You can share this story on social media: