13 people, including 3 foreigners, detained over Istanbul airport attack – reports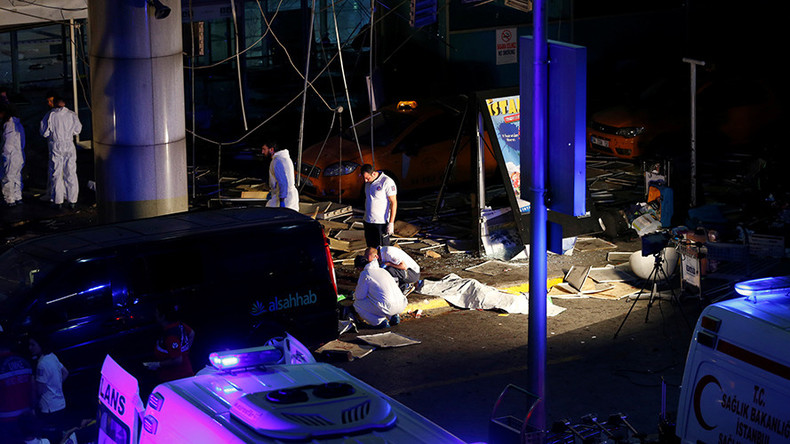 Turkish police have detained 13 people, including up to three foreign nationals, suspected of being linked to the triple suicide bombing at Istanbul's Ataturk international airport that killed 44 people and injured 239, Turkish NTV news outlet reports.
The police simultaneously raided 16 separate places in Istanbul, detaining 14 suspects, including three foreigners, Reuters cited a Turkish official as saying on Thursday.
LIVE UPDATES: ISIS-suspected blasts rock Istanbul's largest airport
According to Reuters, Turkish security services believe that at least one of the suspected Islamic State (IS, formerly ISIS/ISIL) suicide bombers may have been a foreigner.
"We're looking into the possibility of foreigners being involved. It is likely that at least one of them is a foreigner, but the investigation is still underway," the agency quotes a security source as saying.
CCTV images had emerged earlier of the two suspects believed to have carried out the deadly Istanbul airport bombing. Footage from security cameras shows one of the men walking through the arrivals terminal at the Ataturk airport dressed in black and holding an assault rifle.
Turkish security services have reportedly identified the mastermind behind the Istanbul attack as a Chechen named Ahmed Chatayev, according to Yeni Safak newspaper. Before joining Islamic State, he was one of the most wanted fugitives from various terror groups in Russia's North Caucasus.
Later on Thursday, a Russian security source told RIA Novosti that Chatayev had been wanted in Russia since 2008 over his links to terrorism.
The source also dismissed Turkish media reports that a man named Osman Vadinov was one of the suicide bombers. "It's not a Chechen surname, and such a person never lived in Chechnya," he said.
Turkey's authorities said the three terrorists who carried out the suicide bombing were of Russian, Uzbek and Kyrgyz nationality, according to Reuters. The Russian national was reportedly a resident of Dagestan, a region in Russia's North Caucasus.
You can share this story on social media: