250 ISIS fighters reportedly killed in US-led coalition airstrikes on convoy near Fallujah (VIDEO)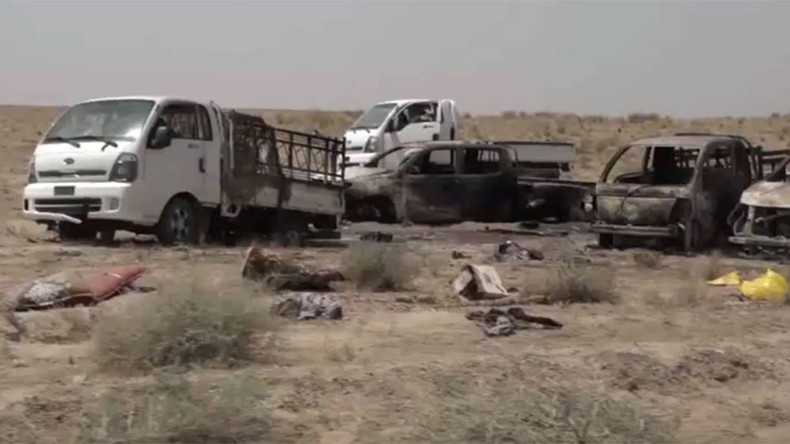 US defense officials claim at least 250 Islamic State fighters were killed and around 40 trucks destroyed in a series of US-led airstrikes near the Iraqi city of Fallujah, which was a key Islamist stronghold before being recently liberated by Iraqi forces.
US-led coalition aircraft hit about 40 vehicles in an Islamic State (IS, formerly ISIS/ISIL) convoy south of Fallujah on Wednesday, according to reports. US military officials told Reuters that the convoy was largely destroyed and at least 250 militants were killed.
The officials spoke on condition of anonymity, however, and warned that the preliminary estimate may change.
Combat footage that surfaced online shows dozens of completely gutted civilian trucks, minivans, and SUVs that were allegedly part of an Islamic State convoy. Some were apparently transporting heavy weapons or ammunition.
Reports of US-led airstrikes were questioned soon after their release, with several sources arguing that Iraqi army was the one behind the strike.
Following Reuters' report, Ismael Alsodani, former Iraq Defense Attache to the US, said that American forces denied the Iraqi request and the airstrikes were conducted solely by Iraq Air Force.
yesterday's night strikes were conducted with pure Iraq Army Aviation after US denied support request.

— Ismael Alsodani (@IAlsodani) June 30, 2016
Also, RT's Murad Gazdiev examined the video footage from the airstrike and tweeted: "The US airforce does not fly in Russian Mi-35 helicopters. It was Iraqi airstrikes that did that."
Fallujah, which is located some 60 kilometers from Baghdad, Iraq's capital, had been under the control of Islamists since 2014. Top Iraqi officials declared full victory over IS in the city in mid-June after a nearly five-week offensive, but due to the back-and-forth nature of the struggle, urban fighting still continued for more than one week more.
US effectively siding with Al-Qaeda in desire to get rid of Assad – former UK ambassador to Syria

Iraq finally declared Fallujah fully liberated last week after government troops entered the al-Julan neighborhood in the northwestern part of the city, which had been IS' last remaining stronghold.
The US-led coalition, which first launched air strikes on the Islamists in Iraq last August, claims to have destroyed 565 IS targets in 106 air raids over the last week.
The unexpectedly swift victory in Fallujah has raised questions about how many militants had actually been occupying the city. Colonel Chris Garver, the US-led anti-IS operation's spokesman, said on Wednesday that Iraqi estimates suggest that the Islamic State group suffered more than 1,000 casualties.
READ MORE: Russian fighter jets destroy ISIS oil facilities close to Turkish border (VIDEO)

During the battle for Fallujah, some IS units engaged Iraqi forces in street-to-street fighting, but some preferred to fall back. The terror group "was not monolithic" in Fallujah Garver said, as cited by the Military Times.
"Some people fought harder than other people did. Some people tried to melt away," he noted. In "different neighborhoods, you get a different answer."
READ MORE: Russian airstrikes destroy 472 terrorist targets in Syria in 48 hours, 1,000 oil tankers in 5 days

Once Fallujah is fully free of Islamic State fighters and mines, the Iraqi government aims to concentrate on launching an offensive to take back terrorist-controlled Mosul, the country's second largest city.
The Russian Air Force has been striking IS targets from its Khmeimim air base since autumn 2015 to help the Syrian Army gain ground in its four-year war on terror.
In May, Moscow suggested that Russian and US forces plan and conduct joint airstrikes against the Islamists, but has so far received no response to the offer. Instead, Washington asked Moscow not to target Al-Nusra Front – which is Al-Qaeda's branch in Syria – for fear that members of the "moderate opposition" could also be hit, Russian Foreign Minister Sergey Lavrov said in June.
Before the ceasefire, much of Islamic State's manpower was eliminated in hundreds of combat sorties, which also targeted the terror group's supplies, oil refineries and convoys.