Rapid Trident: Largest US Army-led multinational exercise kicks off in Ukraine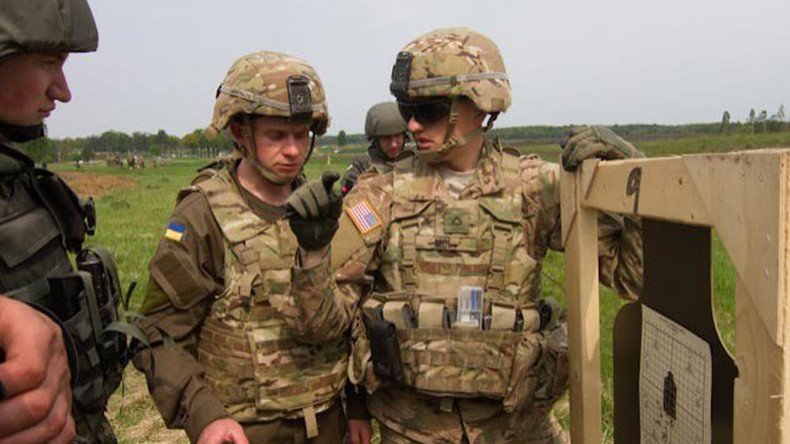 Over 1,800 troops from 14 NATO and "partner nations" have arrived in western Ukraine for the huge Rapid Trident exercise. Coming amid a fragile truce in the country's east, they're set to evaluate the readiness of US-trained Ukrainian troops.
The Rapid Trident 2016 exercise, begun in Ukraine's western region of Lvov on Monday, is scheduled to last until June 8, according to a statement from US Army Europe. It will involve over 1,800 soldiers from 14 NATO and non-NATO countries along with dozens of combat vehicles, aircraft and heavy weaponry. It is said to be the largest multinational war games ever to be held in Ukraine.
'NATO drills - US attempt to show readiness for war against Russia'

The exercise takes place at the International Peacekeeping and Security Center (IPSC) in the Lvov region, where troops will train "interoperability among Ukraine, the US, NATO and Partnership for Peace [non-bloc] members," the official statement added.
"Multinational exercises have been conducted in Ukraine since 1995. However it is safe to say that this is the largest multinational exercise held in Ukraine to date," Don Wrenn, public affairs official of US Army Europe, told Newsweek last Monday.
Local authorities and Rapid Trident commanders have already warned residents of road closures, restrictions on civilian vehicles to use public highways, massive convoy movements, small arms fire as well as low-altitude helicopter flights.
The US Army Europe said Rapid Trident is expected to focus on "the validation phase for the [Ukrainian] Ministry of Defense unit," which has undergone rigorous training provided by the US-run Joint Multinational Training Group-Ukraine (JMTG-U).
The program, which lasts until December 2016, involves dozens of US soldiers from the 173rd Airborne Brigade Combat Team, who began training up to five battalions of Ukraine's military and one battalion of special operations forces last November. It's the first time the Pentagon has directly trained and equipped regular active-duty Ukrainian troops.
Previously, US instructors trained several battalions of the National Guard, widely believed to be penetrated by the Ukrainian far-right and nationalists keen to keep up fighting in Donbass, where a fragile ceasefire between the government and rebel forces is in effect under the Minsk peace accords.
Earlier in June, National Guard soldiers were also visited by Ukrainian President Petro Poroshenko who said they need to get real-life combat experience in Donbass to learn "what it looks like to be on the frontline."
Kiev trains 'special unit' to take back Crimea from Russia – Ukrainian Interior Minister

Rapid Trident 2016 comes as NATO continues its massive build-up in Eastern Europe involving stationing thousands of troops, heavy weaponry and logistics across Baltic countries and Poland. At the upcoming Warsaw summit in July, the bloc members are expected to give the green light on deployment of four battalions to the region.
NATO has also increased the pace and scale of large multinational military exercises. Anakonda 2016, said to be the largest war game in Eastern Europe since the end of the Cold War, brought over 31,000 troops from 24 countries to Poland to simulate retaliation of "Russian aggression" against the country.
Moscow maintains that stepping up NATO's military presence in Eastern Europe and the Baltics is unjustified, stressing that Russia has no plans whatsoever to invade any country in the region.
You can share this story on social media: