'Auxit' vote within year: Far-right Hofer warns Austria could follow in British footsteps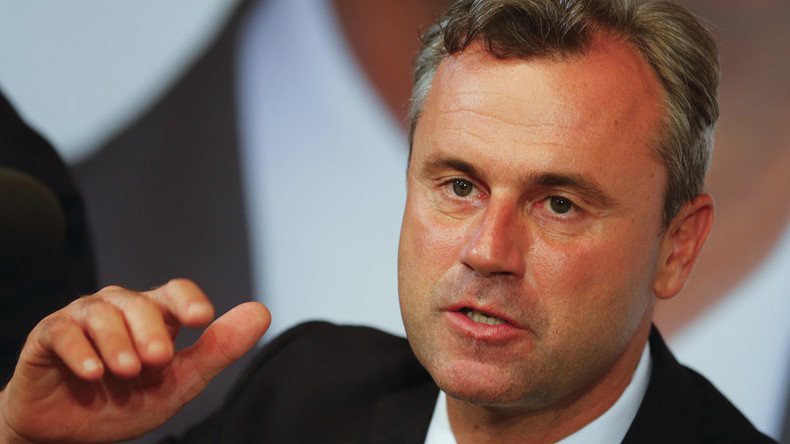 Norbert Hofer, who narrowly failed to become EU's first far-right head of state in last month's presidential run-off in Austria, warns his country could hold a referendum on EU membership within a year if the bloc insists on political "centralization."
"The founding fathers [of the EU] wanted to ensure closer economic cooperation because states that cooperate economically do not wage war against each other. That worked very well until the political union was founded," the head of Austria's anti-immigration and Euroskeptic Freedom Party (FPO) told the tabloid newspaper Oesterreich, as reported by Reuters news agency.
"If a course is set within a year further towards centralization instead of taking [the EU's] core values into account, then we must ask Austrians whether they want to be members," Hofer suggested.
Hofer and his establishment see the bloc as based on economic, rather than political, cooperation.
Hofer's party has challenged the result of the presidential election won by the Green Party's Alexander Van der Bellen by a mere 0.6 percent, with claims of irregularities in the procedure of counting postal ballots. The Constitutional Court is currently examining the allegations, yet even if the FPO succeeds and the court orders a re-run of the vote, the president in Austria does not hold the power to order a referendum.
A latest survey, however, adds to the notion that Austria may be on the way 'out' of the European Union, with some 40 per cent of Austrians expressing a wish to hold a referendum on EU membership.
The poll, conducted by Peter Hajek Opinion Strategies, surveyed 700 people.
It also found that 53 percent of the nation wants to stay for the moment in the EU, but the gap is not that big, especially compared to the results of the same survey conducted in 2014, which suggested only a quarter of the population supported the country's EU exit.
Last year, 260,000 Austrians signed an EU exit petition, forcing a referendum debate in parliament. Moreover, this year's survey showed that the majority of those up for 'Auxit' are supporters of the Freedom Party, and with its popularity growing steadily ahead of parliamentary elections in 2018, it's fair to say the number of those supporting Austrian departure from the Union might grow as well.
Britain's 'Brexit' vote has left many speculating it could have a domino effect across Europe, with Euroskeptic politicians gaining ground and polls showing at least eight more countries could 'want out' of the EU. Meanwhile, Britain itself has been largely divided on the outcome of the referendum, with many calling for a revote.
You can share this story on social media: