Austria's far-right Freedom Party challenges presidential election result – court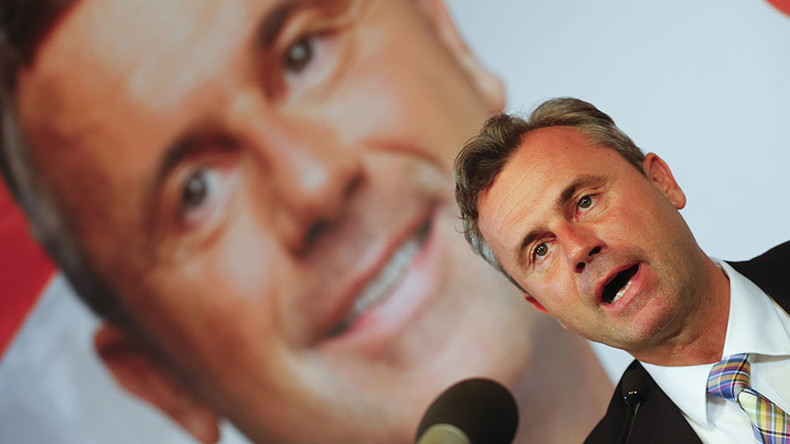 Austria's far-right Freedom Party (FPO) has challenged the result of the recent presidential election, the constitutional court announced on Twitter. Official results showed the party's candidate losing by less than one percentage point.
"[The] challenge by Heinz-Christian Strache of the presidential run-off vote has arrived at the Constitutional Court," the court's spokesman, Christian Neuwirth, wrote on Twitter.
Anfechtung der Bundespräsidenten-Stichwahl durch Heinz-Christian Strache beim Verfassungsgerichtshof eingetroffen. #VfGH#bpwahl16#bpw16

— Christian Neuwirth (@VfGHSprecher) June 8, 2016
APA news agency said the FPO filed a 150-page document with the court.
Party leader Heinz-Christian Strache said the party has received "diverse information" on possible irregularities in the May 22 election, AP reported.
According to Neuwirth, the most substantial complaint revolves around the counting of absentee votes.
The Interior Ministry has stated that up to 23,000 votes were thrown out because they were counted or processed before 9am on the day after the election. An additional 2,000 votes were discarded due to more serious violations, including a handful of teenagers not yet of voting age casting ballots.
Those numbers are highly significant to the FPO, as the final election results showed party candidate Norbert Hofer losing by less than one percentage point, coming in with 49.7 percent of the votes. His opponent, Green leader Alexander Van der Bellen, received 50.3 percent.
Although the office of president is largely ceremonial in Austria, Hofer would have been the first far-right head of state of the European Union.
Campaigning under the nationalist appeal to put "Austria first," Hofer and the FPO have voiced strong opposition to "forced multiculturalism, globalization and mass immigration." That stance earned Hofer a surge in support due to the deepening frustration of the current ruling parties and how they are dealing with the refugee crisis that has engulfed Europe.
The country was divided almost exactly in half for Hofer and Van der Bellen, with workers and rural areas largely backing the FPO candidate.
The party's challenge could lead to at least a partial recount, if the court rules in favor of the party. In order to do so, the court must find that the law was broken and that the breach might have affected the election's final outcome.
However, the 25,000 ballots are not likely to tip the election in the FPO candidate's favor, as the Greens' leader is some 31,000 votes ahead.
You can share this story on social media: