Re-entry capsule for China's next-gen space carrier lands in Inner Mongolia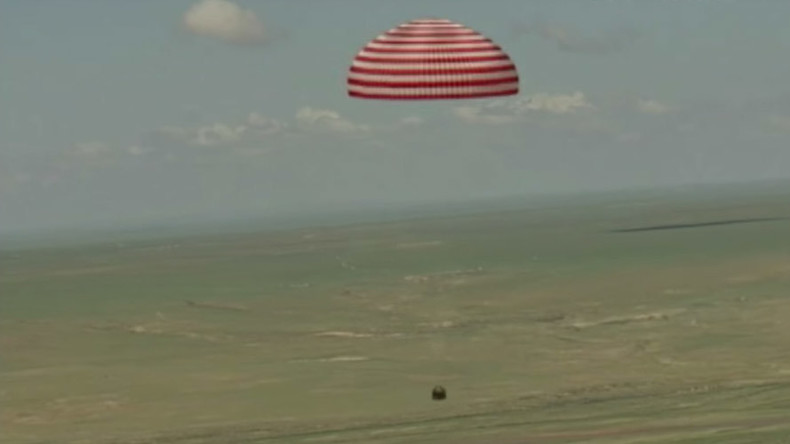 A scaled-down re-entry module of Long March 7 has returned to Earth, safely parachuting down in China's north. The touchdown took place in Badain Jaran Desert in western Inner Mongolia.
Chinese engineers have been testing the module's systems of controlled descent, CRI media outlet cited Liu Chengjun, assistant to the chief engineer of the Long March-7 rocket as saying.
Although this time the descent was uncontrollable, the re-entry module of Shenzhou spacecraft managed to touch down at a desired location, Chengjun said.
The 2,600kg multi-purpose spacecraft re-entry capsule was developed by the China Academy of Space Technology (CAST), for the China Aerospace Science and Technology Corporation (CASC), the main contractor for the Chinese space program.
Medium-sized Long March 7 carrier rocket made its maiden voyage into space on Saturday, blasting off at 12:00 GMT from the new Wenchang Space Launch Center on Hainan Island, southern China.
The main payload for the Long March 7's first mission was a test version of its next-generation capsule and cargo for China's planned space station.
The two-stage Long March 7 rocket is 53.1 meters in length, can carry up to 13.5 tons into low-Earth orbit. It uses an environmentally-friendly fuel made up of kerosene and liquid oxygen.
Long March 7 is expected to become China's main carrier for future space missions as Beijing aims to build a space station of its own by 2020.
China has a vast space program, planning to make at least three launches by April next year.
In mid-September, China will send its second space lab, Tiangong-2, into low orbit. The first orbital lab, Tiangong-1,was launched in September 2011 and was taken out of service in March, still remaining in orbit to gradually descend in the coming months to burn in the atmosphere.
In October the Shenzhou-11 spacecraft will enter orbit with two Taikonauts who will dock with Tiangong-2. The re-entry module will return back on earth in November.
Then in April 2017, the country's first cargo ship, Tianzhou-1, will be sent to dock with Tiangong-2.
You can share this story on social media: