US base civilian worker arrested in Okinawa over suspected DUI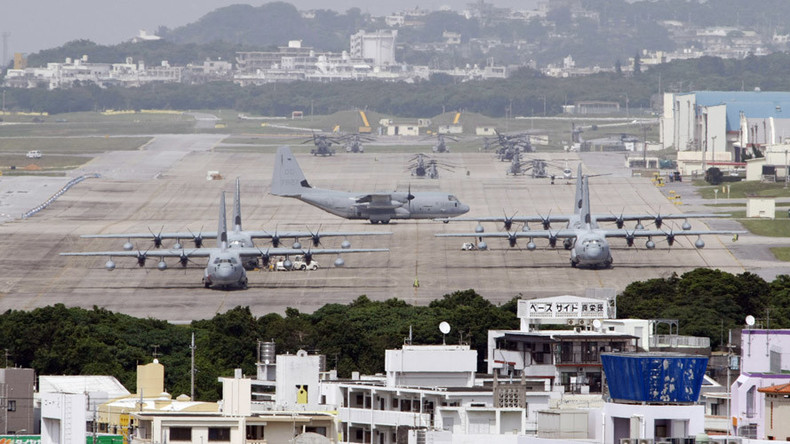 Okinawa police have arrested a US military base shop employee for drunk driving. The arrest comes after the Japanese prefecture launched night patrols following a suspected rape and murder of a local woman by an American contractor.
Police arrested Francis Shayquain Elijah, 24, who drove her car into another vehicle at an intersection close to her home early on Sunday morning, Kyodo news agency reported. The Japanese driver was taken to hospital.
The suspect initially denied being drunk, saying she only consumed spirits the previous day, but the breath test showed an alcohol level four times over the legal limit, according to Japan Today.
The incident follows the recent case of a US Navy sailor also arrested on suspicion of drunk driving. That involved a collision with two mini vehicles, leaving two locals injured.
On Friday, public prosecutors indicted sailor Aimee Mejia, 21, for driving under the influence of alcohol on a national road in the town of Kadena on June 4. The Naha District Public Prosecutor's Office didn't disclose whether the suspect assigned to the US Kadena Air Base, had admitted guilt, JIJI news agency said.
Earlier this year, a US civilian base worker was arrested on suspicion of raping and murdering an Okinawa woman. Thousands protested the killing of Rina Shimabukuro, 20, an office worker from the city of Uruma, who disappeared on April 28. Her body was found after a confession from Kenneth Franklin Gadson, 32, a former US Marine who had been working as a contractor at the Kadena Air Base.
The US military command in Japan has been trying to put an end to a chain of incidents involving American serviceman and civilian workers. Top brass announced they are restricting all celebrations and off-base alcohol consumption for its servicemen in Okinawa.
In order to bring more discipline to the troops, the US Navy command has imposed a drinking ban on personnel in early June on all 18,600 sailors stationed in Okinawa.
US bases in Japan will be without fireworks for US Independence Day on July 4 due to restrictions following the Okinawan woman's murder.
Okinawa hosts several huge US military bases that occupy nearly one fifth of the island's territory and accommodate about 50,000 US nationals, including 30,000 military personnel. The bases have long been blamed for noise and air pollution, but many locals also see them as an uneasy legacy of post-WWII American military occupation.