Keiser: Brexit fallout could result in systemic collapse bigger than 2008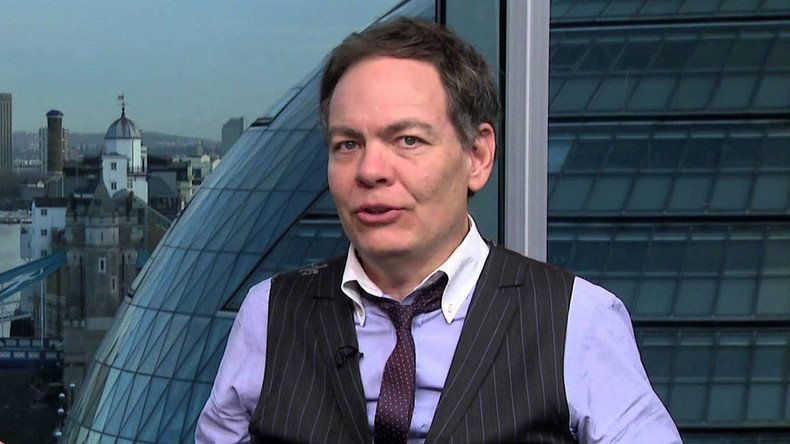 All the pieces are in place for a systemic collapse greater than the financial crash of 2008 in the wake of Brexit, warns Max Keiser.
The economist told RT that we are now faced with the possibility of contagion, similar to the collapse of Lehman Brothers in 2008, which triggered a global credit crisis.
"We've seen markets sell off and we've seen marking down of assets on books, we haven't yet seen the big margin selling that will come in soon, I'm sure there will be some hedge funds that will declare bankruptcy. There are going to be some add on effects that could start to gather some momentum."
The question is: "Can the Central Banks once again ride to the rescue and save the global economy by printing money?"
Ornery Brits just put a gun to global market's head and blew its brains out. Incredibly impressive I must say. I underestimated UK moxie.

— Max Keiser (@maxkeiser) June 24, 2016
He remarked on the possible consequences of the soaring of the Japanese yen which reached an almost two-and-a-half year high Friday after news of the Brexit decision broke.
"If the Yen is rising it shows that that game which has been successful for 20 or 25 years might be over, in which case we're talking about a systemic collapse bigger than 2008 and it's right on time."
He says this is no surprise considering there has been no meaningful economic reform since 2008 just "more credit pumped into the system by more irresponsible corrupt central bankers".
READ MORE: Dow plunges 600+ points following historic Brexit vote
Keiser said it was important to note when discussing the financial fallout of the Brexit vote that the Central Banks have already committed billions to keep these markets going.
"A lot of time bad news stimulates central banks to print money and then the whole charade continues on."
Primary source of anger leading up to #Brexit was BoE money printing.

BoE response to #Brexit - vows to print £250 bn if needed.

— Max Keiser (@maxkeiser) June 24, 2016
Bank of England Governor Mark Carney has said it is ready to inject £250 billion (US$342 billion) into the economy to keep it afloat.
READ MORE: G7 promises to cooperate & support markets after EU referendum
Keiser told RT this 'uncollateralized' money comes from Carney's "magic bag of pixie dust" and is part of a financially-engineered class war, coordinated by the Central Banks where in the UK Carney is "class warrior in chief."
He believes all fiat currencies around the world will face more pressure as gold regains its place in a bull market while bitcoin, which is also in a bull market, will put pressure on governments to mandate economic policy as people look to the exclusive use of the cryptocurrency.
You can share this story on social media: