Refugees banned from Austrian pool after 'foreigner' sexually assaults teenage girl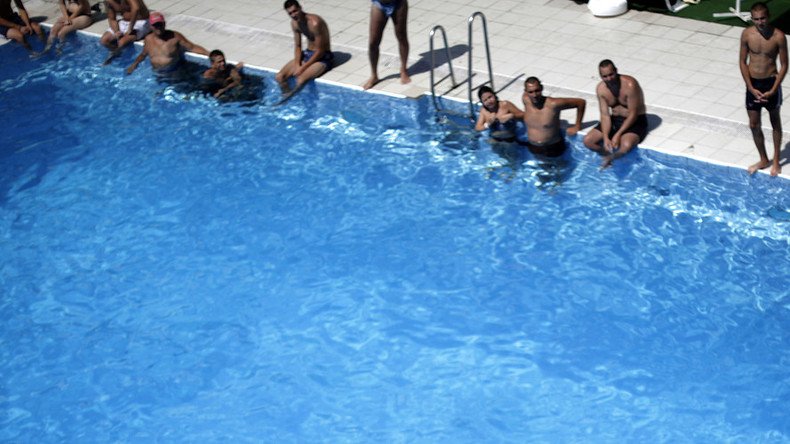 Authorities in the Austrian town of Mistelbach issued a temporary pool ban for refugees following a sexual assault by a "dark-skinned' man on a 13-year-old girl.
"This news was a shock," said the town's mayor, Alfred Pohl, as quoted by the Heute media outlet.
According to Austrian newspaper Kronen Zeitung, the attack happened on Wednesday afternoon.
The girl was first followed by a young man into the women's changing room. Once there, he forced her to perform oral sex. The girl however fiercely resisted and started shouting, forcing the attacker to flee.
Police are now investigating the incident and are searching for the suspect.
According to eyewitnesses and the victim herself the man was a "foreigner."
There are currently eight facilities housing refugees around Mistelbach. Police are now checking the camps, Heute news outlet reports. There is however no confirmation on whether an asylum seeker is behind the attack.
Following the incident the mayor temporarily banned all refugees from attending the swimming pool. The authorities put a poster next the pool entrance reading "Today no entry for refugees," and two guards were hired to patrol the premises.

"This decision was not easy, and I take responsibility for it," the mayor said. "The ban on asylum seekers from the swimming pool is temporary, until the security is in place," he added.
Last year a man named as Amir. A., an asylum seeker from Iraq, raped a 10-year-old boy at a swimming pool in Vienna. After the attack, the man claimed to police it was a "sexual emergency." The assailant was this month sentenced to six years in prison for sexual abuse and the rape of a minor.
A similar incident happened in March this year in the Austrian town of Klagenfurt, where a 37-year-old mother and her four-year-old son fell victim to sexual harassment by a migrant.
Sexual assaults by migrants have also been in the media spotlight just over the border in Germany. In order to clamp down on such cases Germany has launched a website to "give migrants, who have been in Germany for a short time, the opportunity to inform themselves on sexual and reproductive health."
The website Zanzu provides a detailed look into all aspects of sexual life, touching on both physical and legal matters.
You can share this story on social media: