Migrant blamed for alleged assault on mother and 4yo son in Austrian swimming pool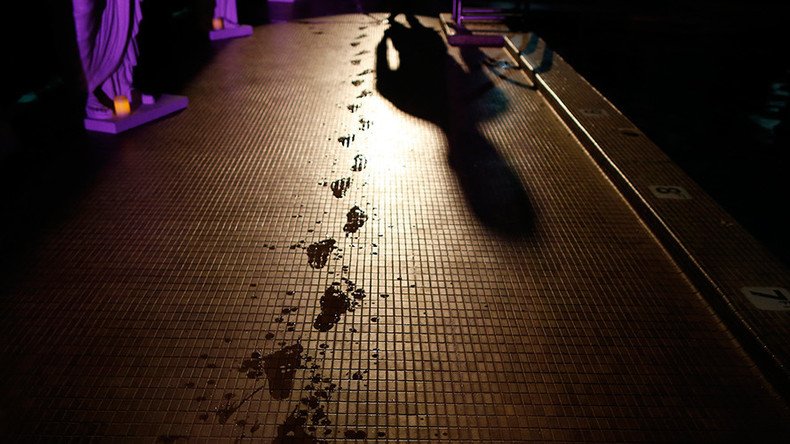 A 37-year-old mother and her 4-year-old son have been subjected to a sexual assault in the quiet southern Austrian town of Klagenfurt.
Swimming in the pool with her young son on Sunday, the woman was allegedly approached by a man who spoke little German but tried to chat with her, according to Kurier daily.
Things went awry when she apparently rejected his advances: the man, later described by the police as a brown-eyed foreigner in his '50s, "strong and fit," jumped into a nearby children's play pool and grabbed her 4-year-old son who was splashing there.
He is then said to have put the boy on his shoulders and run into a grotto behind a fake waterfall at the swimming park. The panicked mother immediately ran after the attacker and found him hiding in the grotto with her son, reportedly unhurt.
When the mother stepped in the grotto, however, the man allegedly put the child aside and grabbed her instead, groping inside her swimming costume and putting his hand on her private parts and breasts. She managed to escape with her son (relatively) safely, and the man left the place shortly after that.
According to the local newspaper Kleine Zeitung, the 37-year-old Austrian was so shocked and depressed that she did not file a complaint with the police until the following day. The woman added that the attacker showed up suddenly, and she was simply unable to call somebody for help.
Klagenfurt police said it is investigating CCTV footage inside the swimming complex, but warns that finding a match would be no easy – according to Gerald Knes, who is in charge of the pool, there were more than 500 visitors that day.
Since the onset of the refugee crisis, multiple media reports suggested that sexual offenses committed by some migrants were on the rise.
Austrian officials also confirmed that sex attacks in the country are at the highest level in many years with average 12 such crimes being reported every day. Over the New Year, there were 24 sexual assaults on women, according to the Interior Ministry.
"Vienna and Salzburg were the cities with the biggest problem. Most of the sex attacks happened on women at public events. They were targeted mostly by small groups of asylum seekers who, after surrounding them, then attacked," the ministry said in a statement as quoted by the Local.
At the same time, it remains unclear, how many of the growing total number of sex attacks in Austria can be linked to the refugee crisis. According to the police report, only 25 out of 343 cases of sex-related incidents reported over the recent months involved charges against asylum seekers, while Austrian citizens were under suspicion in 175 such cases.
Another 43 sex attacks were reportedly committed by foreigners who were not refugees and came from such countries as Turkey, Macedonia or Germany.
Austrians are also suspected of committing 38 out of 61 recently reported rapes, while refugees are under suspicion only in six such cases. At the same time, some high profile sex-related incidents were linked to refugees.
Last month, Austrian police said that an Iraqi refugee was arrested over the rape of a 10 year-old boy at a swimming pool in Vienna in December. The suspect told police he did it due to a "sexual emergency. "When asked if such actions were permitted in his home country, he admitted that "such acts were forbidden in any country of the world."
Preventive measures, which have been denounced as racial profiling, were previously seen in neighboring Germany.
In January, male refugees living in a hostel in Bornheim, a town on the outskirts of Bonn in western Germany, were banned from going to a local swimming pool after the number of complaints of sexual harassment from female visitors became alarmingly high.
"After that I had enough and I decided to ban them all until we find the culprits. I need to protect my guests and my family," Karin Siebrecht-Janisch, the owner, told AFP, insisting that she was not inciting racism or hatred.
You can share this story on social media: