Turkish court convicts man for comparing precious President Erdogan to Gollum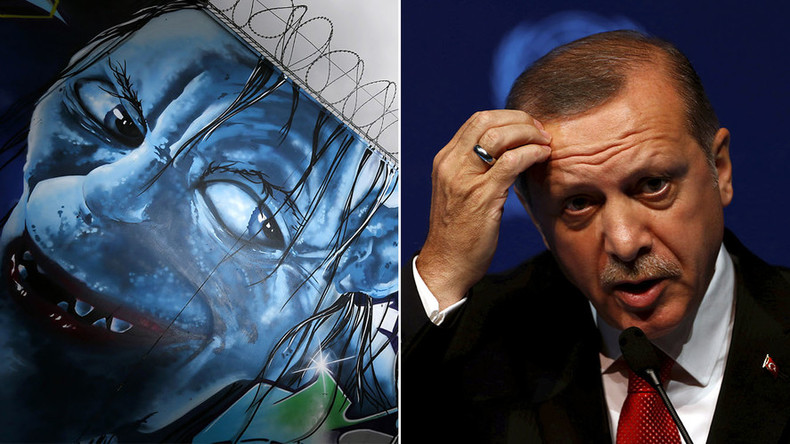 A Turkish court has given a suspended sentence to a man who drew parallels between pictures of the president and 'Lord of the Rings' character Gollum. The offender will be put behind bars for a year should he commit a similar 'crime' within five years.
A court in the southwest province of Antalya on Thursday convicted Rifat Cetin of insulting President Recep Tayyip Erdogan for juxtaposing him with the famous book character. The 'culprit' was sentenced to a year in prison, suspended for five years.
In 2014, Cetin posted three photographs of Erdogan and not-so-great looking "small and slimy" creature on Facebook, implying that the two look alike. Both Erdogan and Gollum had similar facial expressions. Cetin argued that his post was entirely "harmless."
Another man, Bilgin Ciftci, is also facing accusations for sharing similar photographs. Ciftci, a physician, insulted the president when he shared a meme comparing Erdogan's and Gollum's eating habits and emotions. Ciftci was then expelled from the Public Health Institution of Turkey (THSK) in October.
According to Turkish laws, anyone who insults Turkey's president may be punished with a prison sentence of up to four years.
READ MORE: German court again rejects Erdogan's attempt to silence critical publisher
As Erdogan was serving as prime minister back in 2014, Cetin said he would appeal the court's ruling, Turkish media reported.
Erdogan has been trying to suppress any kind of criticism regarding his image and policies. He has received accusations from the international community for backtracking on freedom of speech and leading a clampdown on a wide number of media outlets, journalists and academics.
READ MORE: 'Unbelievable low for press freedom': Ankara charges journalists, academic with 'terror propaganda'

Since 2014, some 2,000 people are said to have been prosecuted in Turkey for insulting the president. One of the cases that received much attention in the media involved a German comedian who read a 'derogatory' poem about the Turkish president in April.
You can share this story on social media: