Attacker dead after hostage situation at German movie theater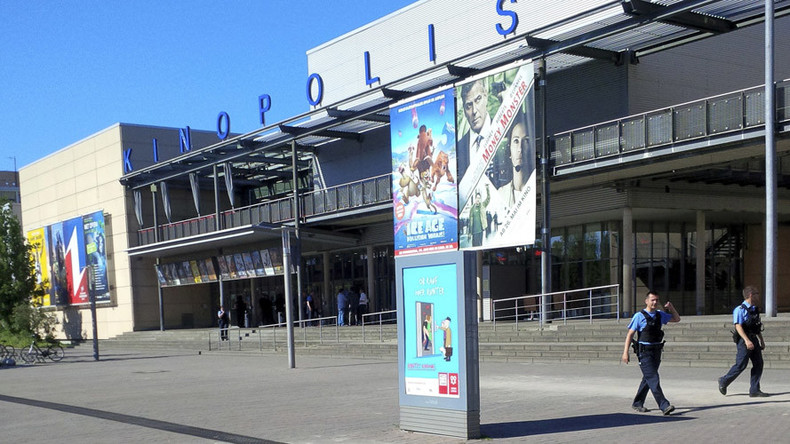 The attacker, who had taken hostages at a cinema complex in Viernheim, Germany, is now dead, according to police.
15:39 GMT

"Many Critical Response Command units deployed to theaters today in response to incident in Germany," @CommissBratton. No Known NYC Threat

— NYPD NEWS (@NYPDnews) June 23, 2016

15:30 GMT

Police have confirmed that the attacker did take hostages before he was shot dead. Speaking to N-TV a police spokesman said that no other people were injured during the attack at Kinopolis complex in Viernheim.

15:27 GMT

Police say no one injured by gunman in cinema, armed man is dead. No terrorist attack, sources tell news agency dpa #viernheim

— DW | Politics (@dw_politics) June 23, 2016

15:26 GMT

Reports that none of the injured have bullet wounds, all injuries related to tear gas.

15:19 GMT

Reports that there was a hostage situation are unconfirmed, according to Bild. Shortly after 3:00 p.m. local time the gunman entered the cinema with a gun and cartridge belt around his shoulder, according to the German publication.

15:15 GMT

The situation is now under control at the scene, with reports that the gunman has been shot dead and at least 25 injured. German newspaper Bild reported that the gunman shot once in the air before 25 people were injured "by tear gas." No details have been released on the shooter.

German paper that first reported shooting now says gunman shot once in the air and 25 ppl were injured "by tear gas" https://t.co/Fk55EJS6SC

— Ryan Beckler (@RyanBeckler) June 23, 2016

15:13 GMT

The hostage situation has ended with no further danger, a police source told Faz Newspaper.