Erdogan: EU doesn't want Turkey because 'majority is Muslim'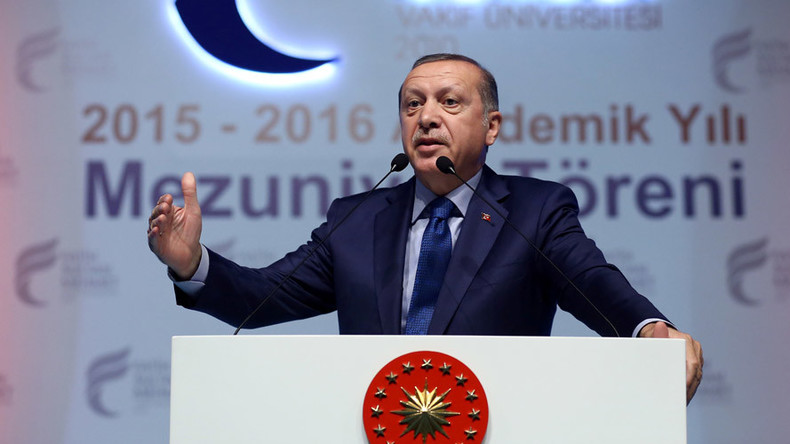 Turkish President Recep Tayyip Erdogan says Europe doesn't want his country to join the EU because the majority of the nation's population is Muslim. He said his government will ask the public whether negotiations with Brussels should continue.
"Europe, you don't want us because the majority of our population are Muslim...we knew it but we tried to show our sincerity," Erdogan said at a graduation ceremony in Istanbul on Wednesday, as quoted by Reuters.
The comments were made on the eve of Britain's historic 'Brexit' vote, in which UK citizens will decide whether to remain part of the EU.
Referring to Britain's vote, Erdogan stated that Turkey could also hold a referendum on the EU.
"We will go and ask the public whether we should continue negotiations with the EU," Erdogan said.
His comments come as European populist leaders and campaigners supporting Britain's exit from the EU warn of creeping Islamization and ill consequences if Turkey ever joined the bloc.
Talks on possible EU membership for Turkey have been taking place since 1963, when Ankara and Brussels drafted an association agreement stating the country would aim to be a member of the bloc. After formally applying in 1987, Turkey began accession talks in 2005. However, Turkey has since made little progress to meet the necessary criteria, despite a flurry of early reforms.
A new phase in Ankara's negotiations to join the bloc will take place on June 30, when Turkish and EU officials meet to discuss "financial and budgetary provisions" that Turkey must meet to become a member, AP reported.
Meanwhile, Ankara and Brussels continue to negotiate a deal which would grant Turkish citizens the right to travel to the EU visa-free, if Ankara fulfills a list of 72 conditions laid out by the bloc.
The agreement is part of a wider migrant deal which would see the return of all illegal migrants reaching Greece from Turkey's shores. In exchange, the EU would take in thousands of Syrian refugees directly from Turkey. The EU would also give €6 billion (US$6.8 billion) in funding over the next five years.
However, a key sticking point of the EU conditions is Turkey's strict anti-terror laws, which Europe says must be loosened for the agreement to go ahead. Turkey says the laws cannot be changed due to the threat posed by Islamic State (IS, formerly ISIS/ISIL), other terrorists, and Kurdish militants.
"A change of attitude is out of the question," Yasin Aktay, deputy chairman of Turkey's ruling AK Party, told Reuters.
Turkish Deputy Prime Minister Mehmet Simsek said last week that "Europe needs Turkey if it wants to have a stronger say in international affairs in this geography, if it wants energy supply security, if it wants even overall security," he said.
"It is in our interests to remain anchored to Europe, and it is in Europe's interests to keep Turkey firmly anchored to Europe," Simsek added.
Erdogan has repeatedly threatened to pull out of the migrant deal if visa-free travel isn't granted to Turkish citizens by July 1.
But despite the bumpy negotiations, EU leaders have warned that threats from Turkey will not achieve results.
Some European leaders also believe Turkey isn't in such a strong position, noting that Ankara's relations with Russia, the US, Syria, Iran, and Israel are strained – meaning it needs better relations with the EU.
"We feel that we have the leverage. We are not solely in the hands of Turkey," an unnamed EU official told Reuters.
The Turkey-EU migrant deal is highly sought-after by Europe, as it continues to face the worst refugee crisis since World War II. More than a million asylum seekers reached the continent in 2015, most of whom hailed from war-torn Syria, where around 250,000 people have been killed and more than 12 million displaced since 2011, according to UN figures.
You can share this story on social media: