'Our views are either similar or coincide': Putin on comprehensive strategic China-Russia alliance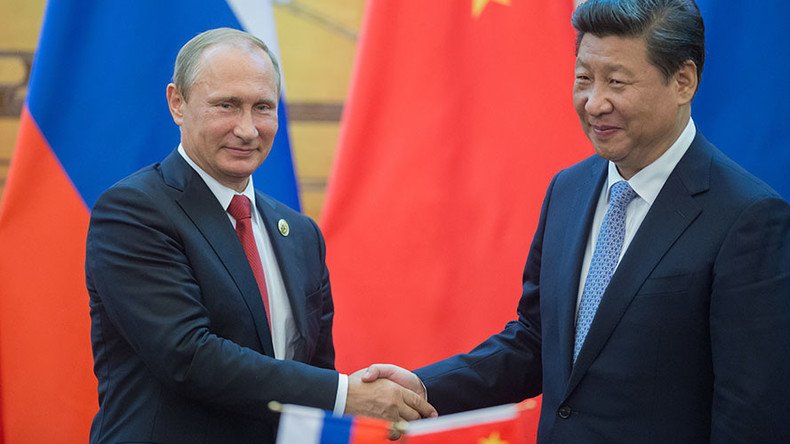 The level of mutual trust in Sino-Russian relations has created grounds for comprehensive partnership and strategic collaboration between the two nations in technical, economic, and political spheres, Russia's President Vladimir Putin told Xinhua.
Praising the unprecedented current level of trust between Beijing and Moscow, Putin said the phase of "strategic cooperation" doesn't fully describe the scale of partnership between the states.
"To say we have strategic cooperation is not enough anymore" Putin told Xinhua. "This is why we have started talking about a comprehensive partnership and strategic collaboration. 'Comprehensive' means that we work virtually on all major avenues; 'strategic' means that we attach enormous inter‑governmental importance to this work."
Noting that Chinese General Secretary Xi Jinping "devotes much of his personal attention" to the development of Russia-China relations, Putin called his counterpart a "good friend and a reliable partner."
The collaboration in international affairs between the two nations, Putin noted, "contributes to the stability of world affairs," where Russian and Chinese views "are either very similar or coincide."
"This similarity or coincidence is backed by concrete work, including efforts on the technical level. We are in constant contact and we consult on global and regional issues. Since we consider each other close allies, naturally, we always listen to our partners and take into account each other's interests," Putin said.
Recalling Xi's speech at the 70th anniversary of the United Nations in New York, last September, Russian President concurred that Moscow stands behind "resolving all contentious issues only by peaceful means on the basis of international law."
In terms of cooperation in the international arena, besides the United Nations, Putin noted the importance of the joint work in the Shanghai Cooperation Organization (SCO) and BRICS. The SCO, Putin said, remains an "essential element" that ensures stability and security in the region, as he expressed hope that more nations will join the bloc.
Beijing-based SCO, created in 2001, is a political and security organization. It comprises China, Russia, Kazakhstan, Uzbekistan, Tajikistan, and Kyrgyzstan. India and Pakistan are expected to become full members of the SCO after they are formally admitted into the organization at the SCO summit in Uzbekistan's capital Tashkent, which begins on Thursday. The work of the organization includes intelligence sharing, counter-terrorism operations, and a joint fight against cyber terrorism in Central Asia.
"At the summit held last year in Ufa, Russia, we decided to admit another two states to the SCO - India, and Pakistan. We are to formalize this decision at the Tashkent meeting. We will also consider the intentions of other countries to join our work," Putin said, adding that admitting more members will turn the organization into a "very powerful" association that "commands respect and is relevant both in the region and worldwide."
Moving away from international politics, Vladimir Putin, highlighted the collaboration between two nations in the technical field and economy.
"We also work together on space programs, in the sphere of aviation, on the construction of a wide-body aircraft and a heavy helicopter. We collaborate on environmental issues, and large-scale energy projects, including in nuclear energy," Putin told Xinhua.
READ MORE: Russian oil trading platform attracts Chinese interest
"One of the most important directions is of course the diversification of our ties, making them more sophisticated, paying more attention to the high-tech area of our collaboration," the Russian president added.
Overall China is increasing its presence in the Russian energy market, Putin said. He welcomed Chinese investments "as a means of further developing our partnership."
"These projects are as important as, for example, those in the energy sphere, such as the huge Power of Siberia project to supply up to 38 billion cubic meters of Russian gas per annum via a newly established eastern route from Russia to China," Putin said.
He also noted the Yamal liquefied natural gas (LNG) project deal led by gas producer Novatek with Chinese banks worth over $12 billion, which was concluded in April. The Yamal LNG project has a target production of 16.5 million tons of LNG per year, and is due for completion in November 2017. In December, Chinese corporation Sinopec also acquired 10 percent of Sibur, Russia's top petrochemical company.
Among other joint projects, Putin noted the Moscow-Kazan High-Speed Rail Line Project, a 770-kilometer high-speed segment that should lead to "large-scale infrastructure cooperation." In April, China agreed to provide a 400-billion-ruble ($6.2 billion) loan to Russia for the project.
The Russian President also welcomed cooperation in the framework of the so-called Silk Road Economic Belt project, which the two leaders agreed to in May. The aim of the project launched in 2013 is to create transport, energy and a trade corridor between Asian and European countries.
"As we know, President Xi Jinping has launched an initiative to revitalize the idea of the Great Silk Road," Putin said. "We believe it is a very timely, interesting and promising initiative aimed at increasing cooperation with all countries of the world, but primarily with neighbors, because wherever the road goes, it first runs through neighboring territories."
You can share this story on social media: