'As fast as they want': US commander says Russia outpaces NATO in deployment capabilities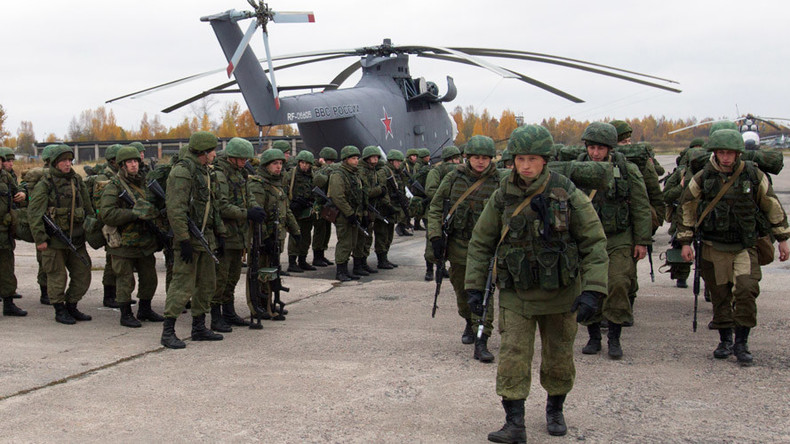 Russian capabilities to deploy troops at long distances are "scary" as they outweigh those of NATO, the commander of US Army Europe has said, calling for "a military Schengen zone" that would allow troops to move back and forth within the bloc's territory.
"The thing I worry about the most is freedom of movement. The Russians are able to move huge formations and lots of equipment a long distance very fast," Lieutenant General Ben Hodges, commander of US Army Europe, told BBC's Hardtalk show on Monday.
"The Russians...can move anywhere inside of Russia, as fast as they want," Gen. Hodges claimed, speaking during the Anakonda 2016 exercises in Poland, which are viewed as NATO's largest Eastern European war games since the Cold War.
The top US commander said he was "concerned" that the Russian military was able to "deploy 20,000 troops and a lot of equipment on the border of a NATO country, or maybe somewhere like Georgia or Ukraine," benefitting from "what we call freedom of movement on the interior lines."
The Russian Army's rapid deployment speed leaves that of NATO far behind, Gen. Hodges claimed. NATO's leaders should have more options "other than a liberation campaign," namely a "military Schengen zone" that would allow the military to move freely.
"A British convoy, an American convoy, a German convoy should be able to go anywhere inside NATO" at three days' notice, he asserted.
"Their snap exercises that they [Russia] do, I personally am surprised each time they do it. And so you can see why that scares me," Gen. Hodges said, obviously referring to the Russian Army's large-scale military drills intended to test troops' readiness and combat capabilities.
Hodges's remarks echoed a February report by RAND Corporation that claimed NATO "cannot successfully defend the territory of its most exposed members," adding that the Baltic cities of Tallinn and Riga would be overrun by Russian forces in less than "60 hours." The alarming report came as the Pentagon announced plans to quadruple its spending in Europe in 2017.
Fears of an alleged Russian capability to invade NATO countries on short notice, however, may come into conflict with moderate voices in Europe who have said the bloc's build-up in Eastern Europe only adds to Cold War-style confrontation.
"It is not NATO's objective to create any military barrier to a large-scale Russian aggression because such an aggression is not on the order of the day and all intelligence assessments do not indicate such a thing," Petr Pavel, chairman of the NATO Military Committee, told journalists on Sunday.
But while Hodges expresses his fear of Russia's military capabilities, Moscow has its own opinions on NATO's activities.
Just last week, Russia Foreign Minister Sergey Lavrov said that Moscow is being forced into a confrontation with the West, after NATO accused Russia of thwarting military transparency in Europe by holding an "unexpected" military exercise. Moscow denied the alliance's claim, saying it had notified the Organization for Security and Cooperation in Europe (OSCE) with relevant information as a gesture of good will.
Russian President Vladimir Putin stated last month that Moscow is being forced to look for ways to neutralize threats to its national security due to the deployment of the NATO anti-missile shield in Europe.
Meanwhile, large-scale war games like Anakonda 2016 were counterproductive in terms of restoring trust between NATO and Russia, German Foreign Minister Frank-Walter Steinmeier said on Saturday.
"Whoever believes that a symbolic tank parade on the alliance's eastern border will bring security is mistaken," he said, adding that it would be wise to seek dialogue with Moscow rather than stirring up old tensions "through saber-rattling and war-mongering."
The NATO summit in Warsaw is set to make the final decision on deploying additional troops in Eastern Europe to protect the region against "Russian aggression" – plans that have been dubbed "completely absurd" by Moscow.
The bloc simply "needs a foreign enemy, otherwise what would be the reason for the existence of such an organization," Putin said at the St. Petersburg International Economic Forum (SPIEF) on Friday, assuring the audience "no one wants" a slide into a new Cold War.