Terror suspect with salt & cookie-filled vest arrested in Brussels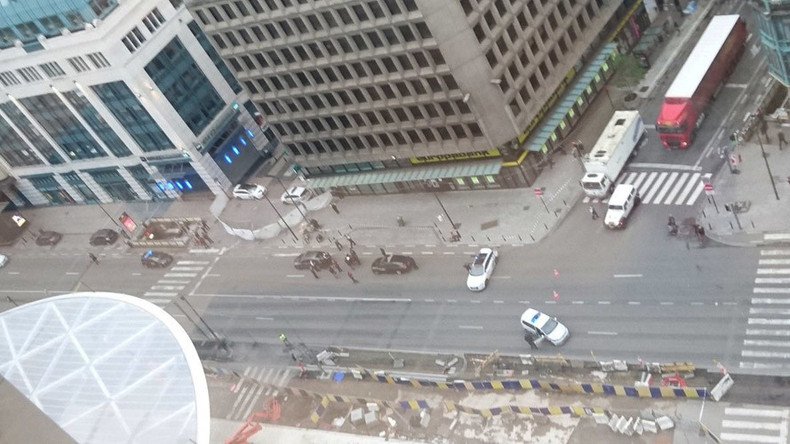 A suspect who was arrested following a bomb alert in a Brussels shopping mall was wearing a fake explosive belt filled with salt and cookies, authorities said. Soon after, two metro stations were said to have been evacuated.
The incident happened at the City2 Shopping Mall in the heart of the Belgian capital, local media said, adding that it was a bomb alert. The area was cordoned off and emergency services along with sappers arrived at the scene.
The police were notified at 5.30am "of a suspicious situation," said Ilse Van de Keere, spokeswoman for the Brussels-Ixelles police. "A security perimeter was established and the SEDEE unit [Belgian armed forces] is at the site. The operations are still ongoing."
Traffic at the nearby Jardin Botanique Boulevard was blocked as well as at Rogier metro station.
Initially, a spokeswoman for the Brussels prosecutor said the man "arrested at 5.30 this morning" was "possibly in possession of explosives."
However, later RTL prosecutors said sappers found no explosives in the building and the belt turned out to be a fake.
The Belgian security source confirmed to Reuters that no explosives were found on the suspect. Similar information appeared in the Flemish-language VTM Nieuws newspaper.
While DH cited sources claiming the 'terror incident' was a joke. The 26-year-old man apparently made a fake 'explosive belt' filled with salt. He then called police flagging up a "terror alert."
The man initially claimed that he was kidnapped and had to wear an explosive device that could be detonated remotely.
He said he was abducted by unknown people in a car that could be found in Shaerbeek area of Brussels. The car was later located by police.
According to RTL sources, the suspect may have mental health problems. The SEDEE unit found no explosives in his belt.
The man was known to Belgian authorities for various offenses, prosecutors said, as cited by Belgium's VTM news.
"In 2014, he was involved in a case of the federal prosecutor. He has recently namely contacted the police and stated that he joined the terror group Islamic State in Syria."
Schuman, De Brouckere stations evacuated
Soon after that, Schuman and De Brouckere stations in the Belgian capital were evacuated, locals reported on Twitter. Schuman serves the European quarter of Brussels and is located near EU buildings.
Prime Minister Charles Michel, who was due to speak on an RTL program, canceled the engagement, saying the situation "was very suspicious."
After a meeting of the National Security Council, Michel told journalists "the situation is currently under control." He added that security services "remain extremely vigilant."
Brussels has been on high alert since twin suicide bombings hit Zaventem Airport and Maelbeek metro station on March 22. The station is near the buildings of the EU Commission and the Council of the European Union, as well as NATO's headquarters.
Earlier in June, reports emerged that Belgium's capital may once again see terror attacks beginning this month. Extremists may target schools, hospitals and public places, where people gather for Euro-2016 related events, during the Islamic Ramadan holiday.
READ MORE: 3 Belgians charged with attempting to commit terror acts after overnight raids

Numerous raids have been conducted in the mainly Muslim Molenbeek area of Brussels, which is often referred to as an "Islamist hotspot." Many of the suspects involved in the Paris attacks grew up and lived in Molenbeek, including terror mastermind Abdelhamid Abaaoud, the Abdeslam brothers, and Mohamed Abrini, who was also involved in the Brussels attacks. 
On Friday, at least 12 people were arrested during anti-terrorist operations across Belgium on suspicion of plotting attacks. Three of the suspects have been charged with attempting to commit terrorist acts, while nine were released.
Reports surfaced that a detained suspect worked at Zaventem Airport and had previously contacted one of the Brussels' suicide bombers.
You can share this story on social media: