3 Belgians charged with attempting to commit terror acts after overnight raids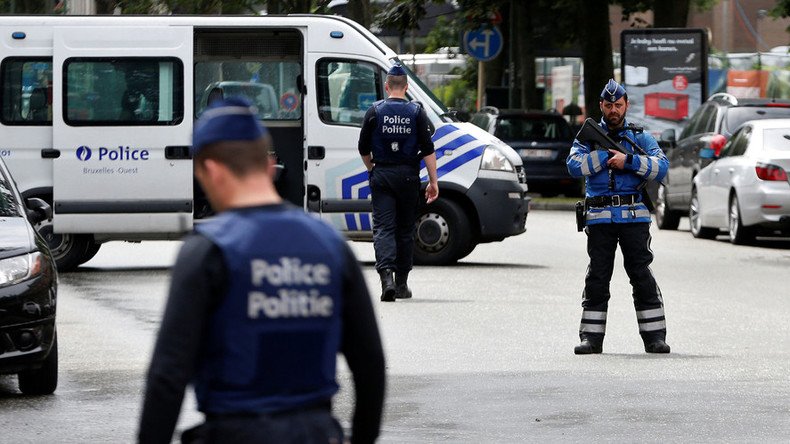 At least 12 people have been arrested overnight during anti-terrorist operations across Belgium on suspicion of plotting attacks, the federal prosecutor said. Reports emerged that one of the suspects worked at Zaventem Airport and had previously contacted a Brussels suicide bomber.
Three of the suspects have been charged with attempting to commit terrorist acts, while nine were released, according to the prosecutor, RTBF reports.
According to the prosecutor, a Brussels judge specializing in terrorism placed Samir C., Mustafa B., and Jawad B., under arrest. All three are Belgian citizens.
Earlier on Saturday, the prosecutor stated that "in connection with a criminal investigation concerning terrorism... 40 people were taken for questioning. Twelve of them were arrested."
Some 40 addresses were searched during the raid.
The anti-terrorism operation was carried out in 16 areas, according to RTBF. Apart from Brussels, these sites included Molenbeek-St-Jean, Schaerbeek, Anderlecht, Koekelberg, Sint-Agatha-Berchem, Evere, Forest, Watermael-Boitsfort, Ganshoren, Zaventem, Ninove, Wemmel, Fleurus Tubize and Liège.
"Evidence was gathered [and] as part of the instruction [we] needed to intervene immediately," the federal prosecutor said in a statement.
No weapons or explosives have been found during the raids so far.
The suspects were planning to carry out attacks in the areas of events linked to Euro-2016 in Brussels this weekend, Flemish-speaking VTM broadcaster reported.
The broadcaster added that the attacks could have been targeted the festive events linked to Saturday's Euro-2016 match.
One of the suspects arrested Friday evening was reportedly working at Brussels' Zaventem Airport, local media reported, citing sources. Man who was identified by the media as Youssef E.A, 29, was allegedly a childhood friend of Khalid El Bakraoui, one of the suicide bombers in Brussels' Maelbeek metro station on March 22.
The man had direct access to the planes, local media said. Police reportedly found messages on his computer allegedly sent to El Bakraoui which state that planes from US, Russia and Israel take off every Tuesday from Zaventem.
Belgian Prime Minister Charles Michel announced that Euro 2016-related events would go ahead as planned in the country, but with extra security measures.
"We want to continue living normally… The situation is under control," he said at a news conference. "We are extremely vigilant, we are monitoring the situation hour-by-hour and we will continue with determination the fight against extremism, radicalization and terrorism."
Belgium has been on high alert since twin suicide bombings hit Brussels' Airport and Maelbeek Metro station on March 22. The Metro station was not far from the building housing the EU Commission and the Council of the European Union, as well as NATO headquarters.
With a population of about 11 million people, Belgium has been the source of more Islamic State (IS formerly, ISIS/ISIL) recruits per capita than any other country in Europe, according to the United Nations Working Group.
Numerous raids have been held in the mainly Muslim area of Brussels called Molenbeek, which is often referred to as an "Islamist hotspot." Many of the suspects involved in the Paris attacks grew up and lived in Molenbeek, including terror mastermind Abdelhamid Abaaoud, the Abdeslam brothers, and Mohamed Abrini, who was also involved in the Brussels attacks. 
Earlier in June, reports emerged that Belgium's capital may once again see terror attacks beginning this month, as schools, hospitals and public places where people gather for Euro-2016 related events may be targeted by extremists during the Islamic Ramadan holiday.
In May, Islamic State (IS, formerly ISIS/ISIL) called on its followers to carry out terror attacks in the US and Europe during Ramadan. The message said that June should be made into a "month of calamity" for unbelievers all over the world.
You can share this story on social media: