Suspects in murder of Russian politician Nemtsov motivated by greed, not religion – investigation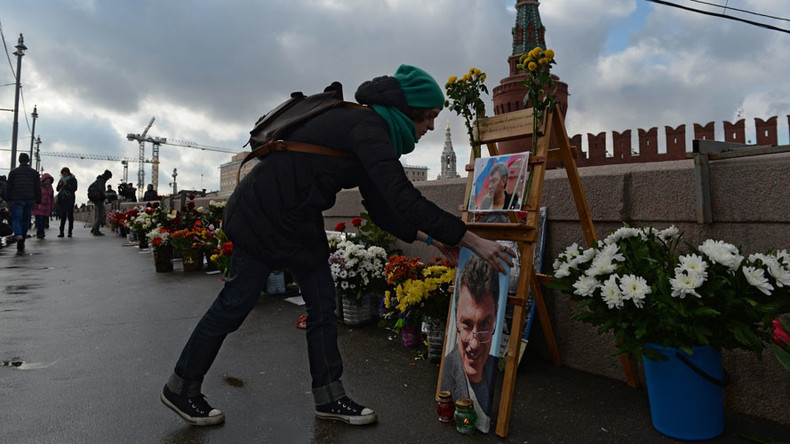 Suspected murderers of Russian opposition figure Boris Nemtsov were motivated solely by greed, with the crime not connected to the politician's statements in support of the Charlie Hebdo cartoons of prophet Muhammad, Russia's investigative committee said.
"The investigation probed the testimonies of defendants [Zaur] Dadaev and Anzor Gubashev that the murder of Nemtsov was motivated by religious hatred as the victim supported the caricatures on the Prophet Muhammad in the French Charlie Hebdo magazine in January 2015," said Investigative Committee spokesman Vladimir Markin.
"However, the evidence suggests that the members of an organized group began preparing for Nemtsov's murder as early as September 2014, which makes their claimed motive of religious hatred invalid," he added.
According to the Investigative Committee, Nemtsov's killers were offered at least 15 million rubles (around US$230,000) for carrying out the murder.
The criminal investigation against Zaur Dadaev, Shadid Gubashev, Anzor Gubashev, Temirlan Eskerhanov and Khamzat Bakhaev, who are accused of murder for hire as part of an organized group, has been concluded, the spokesman said.
"The investigation has collected sufficient evidence, therefore the criminal case against the five defendants has been forwarded for approval of the bill of indictment," he added.
Nemtsov was shot dead while crossing the Bolshoi Moskvoretsky Bridge, near the Kremlin, with his girlfriend on February 27, 2015.
An assailant in a car shot the 55-year-old politician four times in the back. The assassination prompted a thousands-strong march in the Russian capital in 2015, with demands to find and punish the killers.
In a public address Russian President Vladimir Putin personally pledged to punish those responsible for the organization and execution of the murder.
Five men from the Chechen Republic in southern Russia were detained in connection with the crime, all facing charges of a contract murder within a criminal group and illegal possession of firearms.
A separate case was launched against Ruslan Mukhutdinov, who is suspected to be an organizer of the hit.
One of the suspected killers, Dadaev, reportedly told investigators that the murder was revenge for Nemtsov's "negative comments on Muslims and Islam," and the public condemnation of Islamists who killed journalists from the Charlie Hebdo magazine in France in January 2015.
Boris Nemtsov was a regional governor and a deputy PM under President Boris Yeltsin. In recent years he had turned into an opposition politician occupying a seat in the legislature of central Russia's Yaroslavl Region.