Italy's eurosceptic party scores big wins in Rome, Turin mayoral elections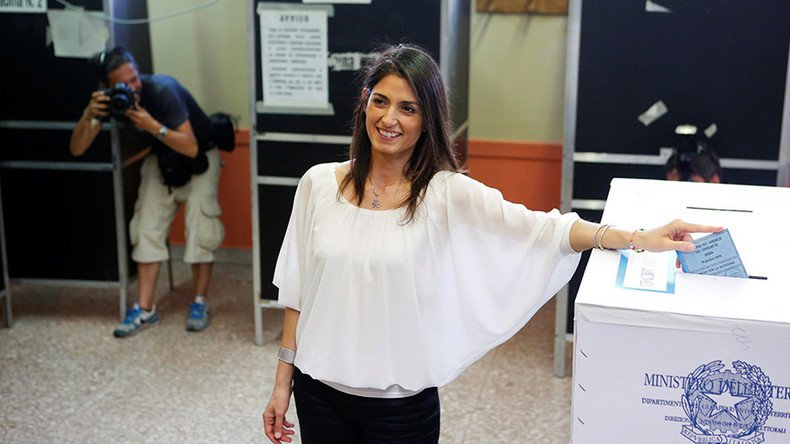 Italy's eurosceptic anti-establishment 5-Star Movement (M5S) has achieved a breakthrough by winning mayoral elections in Rome and Turin. The win is expected to be a massive blow to Prime Minister Matteo Renzi's center-left Democratic Party (PD).
M5S candidate Virginia Raggi, a popular 37-year-old lawyer, has managed to take 67 percent of the vote in the Rome mayoral run-off ballot. Raggi has made history by becoming the city's first woman mayor.
"A new era is beginning with us," said Raggi. "We'll work to bring back legality and transparency to the city's institutions."
Raggi ran on a platform focused on fighting corruption and cronyism.
Meanwhile, her opponent, the center-left's Roberto Giachetti, received only 33 percent of the vote. Giachetti conceded defeat before the final results were announced.
"I just called Virginia Raggi and paid my compliments," he said, as cited by RomaToday. He admitted that it had been a tough election campaign from the very beginning and he promised to "continue to work for Rome" as the part of a "constructive opposition."
However, the biggest impact to PM Renzi's standing may be a shocking defeat in his stronghold, Turin, where incumbent Piero Fassino was swept by M5S candidate Chiara Appendino. Appendino managed to get 55 percent of the vote.
Nevertheless, Renzi's PD looks to keep its hold on Italy's financial capital, Milan, where center-left candidate Giuseppe Sala won with 51.7 percent of the vote, while the Center-Right Coalition's Stefano Parisi got 48.3 percent.
Around 8.6 million people – one-fifth of the total electorate – were eligible to vote in the second round of Italy's mayoral races. Second rounds were held in the 126 towns where no candidate received over 50 percent of the vote in the first, which was held on June 5.
M5S has shown stellar results during the Italian mayoral elections. Though founded less than seven years ago, it is currently Italy's leading opposition party. The movement is more set against corruption and cronyism than austerity, and its key pillars include holding a referendum on euro membership and environmentalism.
M5S members believe that Italy's current left and right party division is outdated, freely picking and choosing from policies originating on both sides.
Evidence of corruption has boosted the popularity of the Five Star Movement, which is led by comedian Beppe Grillo.
Grillo put the party on the map with a slogan directed at the establishment – "vaffanculo" – which literally means "f**k off." He has also expressed unwillingness to form any type of coalition government.
You can share this story on social media: