Italy's Eurosceptic, anti-establishment party candidate winning Rome mayoral race – exit polls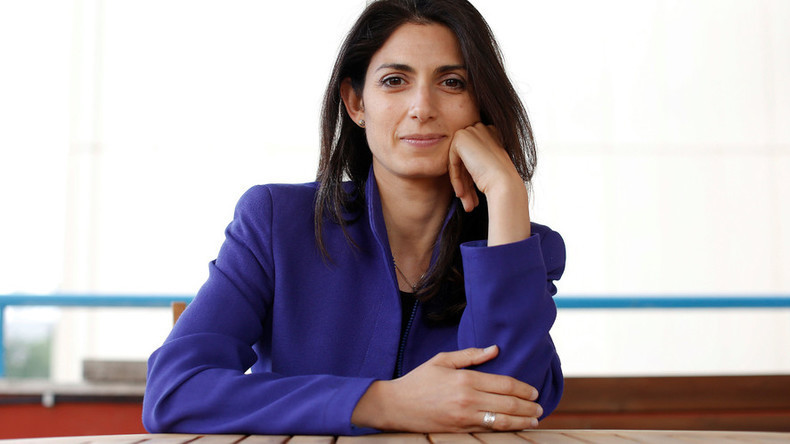 A female candidate from the Eurosceptic, anti-establishment, 5-Star Movement (M5S) is leading Rome's mayoral race, latest polls suggest. Virginia Raggi, a popular 37-year-old lawyer, is running on a platform focused on fighting corruption and cronyism.
Most of the exit polls are projecting Raggi to take the lead.
The most recent Tg Com 24 poll is expecting Raggi to win with 39.3 percent of the vote, while Prime Minister Matteo Renzi's favorite, the center-left's Roberto Giachetti, comes in with 21.6 percent.
Meanwhile, the pollster EMG said Raggi would win with 33 to 37 percent of the vote, followed by Giachetti with 22 to 26 percent. The Piepoli Institute also expects Raggi to win, predicting that she will garner 34 to 38 percent of the ballots, while Giachetti looks to take 20 to 24 percent.
If neither candidate receives over 50 percent, a run-off election between the first and second place finishers will be held on June 19.
Raggi has shown that she is serious about taking on the role of the city's first female mayor. "We have the desire to govern, the desire to change this city," Raggi said earlier this week. "There is no alternative."
The city has been looking for change since the "Mafia Capital" scandal turned heads in late 2014, shedding light on a secretive world of corruption between politicians and mobsters. Many of the individuals implicated in the scandal are still being tried for embezzling millions of euros from the city's coffers and approving give away contracts.
The evidence of corruption has boosted the popularity of the Five Star Movement, which led by comedian Beppe Grillo.
People want to see change. "I am really angry and completely frustrated," a shopkeeper from Rome told The Telegraph. "I don't want to vote, but as a citizen it is my duty. I'm really fed up."
Raggi has promised to deliver. "We have made a personal commitment [to changing the city], and I think there are a lot of our fellow citizens who are also now ready to do the same," she said prior to the vote.
Though founded less than seven years ago, M5S is currently Italy's leading opposition party. The populist movement is more against corruption and cronyism than austerity, and its key pillars include a referendum on euro membership and environmentalism.
Its members argue that Italy's current left and right party division is outdated and freely pick and choose from policies originating on both sides.
Grillo put the party on the map with a slogan directed towards the establishment – "vaffanculo" – which literally means "f**k off." He has also expressed unwillingness to form any type of a coalition government.