Washington won't map areas of Syria controlled by US-backed opposition – Russian MoD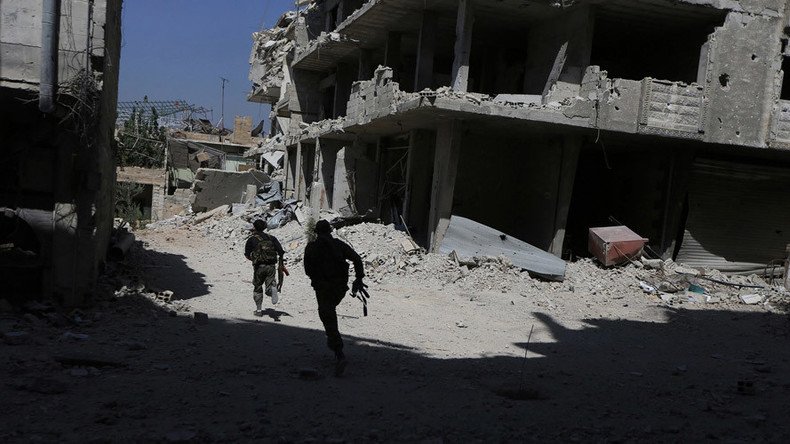 Washington still refuses to provide Moscow with the coordinates of areas controlled by US-backed Syrian opposition, Russian Defense Ministry said, adding that Russian and US military have discussed the prevention of incidents during military operations.
The conference via videolink between Russian and US military officials took place on Saturday, Defense Ministry's spokesman Major-General Igor Konashenkov said in a statement.
According to him, earlier US side claimed that Russia targeted areas held by Syrian opposition on June 16 in southern Syria despite Washington's earlier requests.
The Russian Defense Ministry clarified that the object targeted by Russian military was located nearly 300 km from the territories claimed by US as areas controlled by the Syrian opposition which had joined the ceasefire.
The Russian Air Force "acted within agreed procedures, warning members of the US-led coalition beforehand about the chosen ground targets," Konashenkov said.
The American side "hasn't provided coordinates of the areas occupied by opposition groups under US control," which did not allow Moscow to adjust the actions by the Russian Air Force.
READ MORE: Russia postpones airstrikes against terrorist-held areas in Syria
In addition, the Russian Defense Ministry has repeatedly suggested to their American colleagues in recent months to make a joint map containing relevant information on the locations of existing forces in Syria.
"However, there's no significant progress in this matter," he added.
On Friday, US media burst with reports about alleged Russian attack on Syrian opposition forces in At-Tanf area. The Pentagon hurried to claim that the rebels there were party to the "cessation of hostilities" in the war-torn country.
"Department officials expressed strong concerns about the attack on the coalition-supported counter-ISIL forces at the At-Tanf garrison, which included forces that are participants in the cessation of hostilities in Syria, and emphasized that those concerns would be addressed through ongoing diplomatic discussions on the cessation of hostilities," Pentagon spokesman Peter Cook said in the statement.
You can share this story on social media: