Hollande threatens to ban demos as French anti-labor law protests grow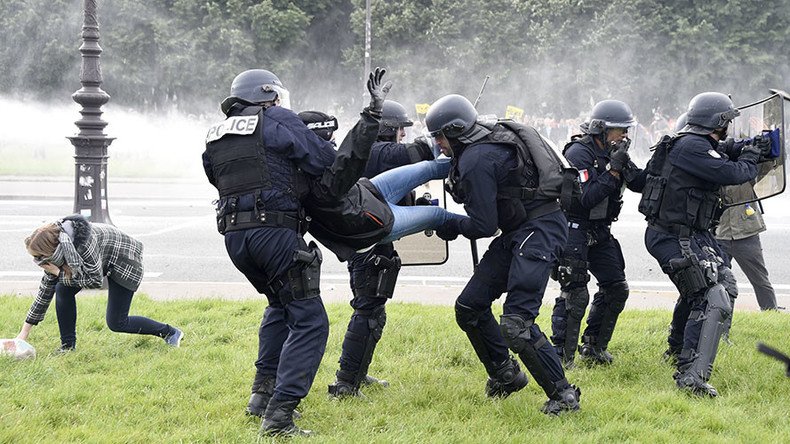 President Francois Hollande has proposed to ban demonstrations in France, according to his presidential spokesman, who said that at a time when the country is plagued by terrorism, the conditions are not in place to protect "personal or public property."
"At a time when France is hosting the Euro 2016 [football tournament], when it is faced with terrorism, demonstrations can no longer be authorized if property, people and public property cannot be safeguarded," Hollande told a Cabinet meeting on Wednesday, according to his spokesman Stephane Le Foll, AFP reported.
"The conditions under which a manifestation is authorized is a subject of discussion between the organizers and the authorities representing the state," Le Foll said.
"If the conditions are not in place to protect personal or public property, and as things stand now they are not, decisions are currently being made case-by-case not to allow the protests," he added.
On Tuesday, tens of thousands of people took to the streets of Paris, shouting slogans against the new labor law being imposed by the government and carrying placards that read: "For new rights." Some protestors torched a police car at the Place de la Republique in the heart of Paris. Staff working at the Eiffel Tower announced the closure of the city's iconic landmark, saying they "would join the protest." They also warned that sites near it would be unsafe.
A group of black-clad demonstrators allegedly vandalized the Necker Children's Hospital, where a three-year-old child, whose mother and father, a policeman, were stabbed to death by an Islamic State militant Monday evening outside their home near Paris, is currently staying.
At least 40 people, including 29 officers, were injured as protesters clashed with police in the center of the French capital. Police made at least 58 arrests and deployed tear gas and water cannons against the demonstrators. Health Minister Marisol Touraine called the damage "shameful" and its perpetrators "hooligans."
Similar demonstrations were held across the whole of France. Nearly 20,000 gathered in the city of Toulouse, according to the demonstration's organizers. In Nantes, protesters gathered in the streets, despite a recently-imposed ban on rallies.
Despite mass protests, Prime Minister Manuel Valls has vowed to stand firm behind the unpopular labor law.
"The government will not change a text which is already the outcome of negotiations with the unions," Manuel Valls told France Inter radio, adding: "It's a text that is good for employees, for companies that create new rights."
The unpopular law, initiated by Labor Minister Myriam El Khomri, forces employers to pay only 10 percent of an overtime bonus, instead of the current 25 percent. The bill technically maintains the 35-hour working week, but says that in case of "exceptional circumstances," employees can be asked to work up to 60 hours a week.
Anti-labor law protests in France have grown into something more far-reaching and long-lasting, with people saying they are rallying against capitalism, intolerance and French government policies on the whole. The protests' slogans seem very similar to the Occupy movement, which first started in the US and eventually spread globally.
You can share this story on social media: