At least 40 injured, 58 arrested in Paris anti-labor reform protests – police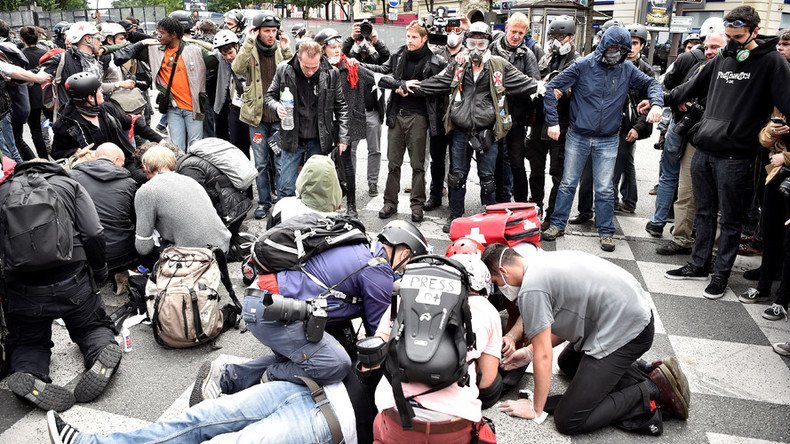 At least 40 people, including 29 officers, were injured as protesters against France's highly unpopular proposed labor law clashed with police in Paris. Police made 58 arrests and deployed tear gas and water cannons against the demonstrators.
Twenty-nine officers and 11 rioters have been injured during clashes in the heart of the French capital, police said.
Security forces deployed six water cannons to calm the demonstrators, at least 58 of whom were detained.
Security forces deployed six water cannons to calm the demonstrators, at least 15 of whom were detained.
Tens of thousands of people gathered in the center of the French capital on Tuesday, BFMTV reported.
Paris police chief Michel Cadot initially he expected "maybe more than 50,000 demonstrators" to protest in the city.
Clashes took place near the capital's Port Royal railway station. Dozens of people, mostly wearing hoods, threw stones and firecrackers at the security forces, who responded with force to disperse the demonstration.
The protestors have torched a police car at the Republic Square in the hear t of Paris, with thick black smoke coming from the fire.
People took to the streets shouting slogans against the new labor reforms imposed by the government and carrying placards that read, "For new rights".
The staff working at Eiffel Tower announced the closure of the city's main tourist attraction on Tuesday, saying that they "would join the protest." They also warned that sites near the landmark will be unsafe as demonstrators are expected to gather there, BFMTV reported.
At the same time, strikes held by SNCF and Air France workers also disrupted the nation's transport sector.
Social media users posted photos of protesters paying tribute to the victims of the recent shooting in an Orlando gay nightclub.
Similar demonstrations were held across the whole France. Nearly 20,000 gathered in the city of Toulouse, according to the demonstration's organizers. In Nantes protesters gathered in the streets despite a recently-imposed ban on rallies.
The rallies, held under the popular slogans LoiTravail (Labor Law) and NuitDebout (Rise Up At Night), have repeatedly turned violent, with officers clashing with demonstrators and police firing tear gas at protesters. Almost every rally has ended with arrests. The most violent rallies occurred in Paris, Rennes and Nantes.
The unpopular reform, initiated by Labor Minister Myriam El Khomri, forces employers to pay only 10 percent of overtime bonus, instead of the current 25 percent. The bill technically maintains the 35-hour working week, but says that in case of "exceptional circumstances," employees can be asked to work up to 60 hours a week.
Sporadic anti-labor reform protests in France have grown into something more substantial – now people claim they are rallying against capitalism, French government policies and intolerance. The protests' slogans seem very similar to the Occupy movement, which started in the US and spread globally.
You can share this story on social media: