100 Al-Nusra terrorists arrive in Syrian-Turkish border region – Russian Defense Ministry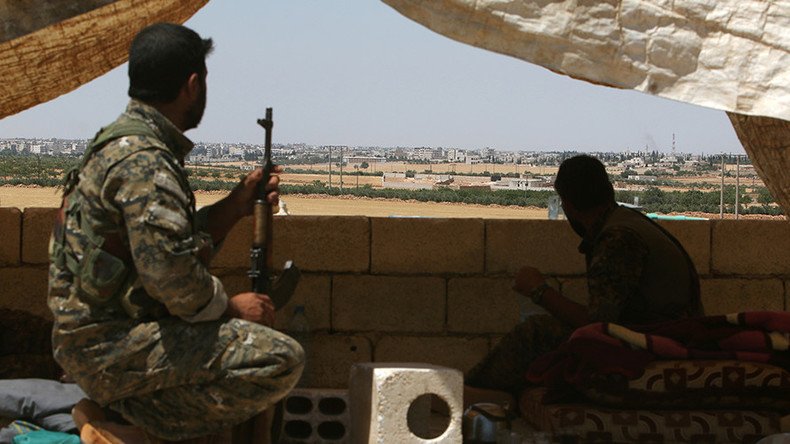 Around 100 heavily armed Al-Nusra Front jihadists were spotted arriving in the border region between Syria and Turkey by locals living in Kbana, a village in Syria's Latakia province, the Russian Center for Syrian Reconciliation reported in a statement.
The jihadists shelled the villages of Rasha, Ikko, and Bsharfa in Latakia province as well as Blelije and Marj Sultan in Damascus province, and one more village in Hama province, according to the Center's statement.
The terrorists also shelled al-Nayrab airport in Aleppo with artillery and mortars, the Russian Defense Ministry says.
At the same time, the Reconciliation Center noted that "the ceasefire has been observed in most provinces of the Syrian Arab Republic," with only five violations being registered in the last 24 hours.
Jaysh al-Islam, an armed group that paints itself as part of the "moderate" opposition, shelled positions held by Syria's Armed Forces in the villages of al-Sakhiyah, Jaubar, Harasta al-Basal, and Arbil in Damascus province, thus violating the truce four times, according to the Russian Defense Ministry.
Syrian army positions were also shelled by the Jaysh al-Fath and Jund al-Aqsa groups in the Idlib province.
The Russian Defense Ministry stressed in its statement that neither the Russian nor Syrian Air Forces had carried out air strikes against opposition groups that had informed the Russian or American Centers for Reconciliation of their location and committed to the ceasefire regime.
The number of armed opposition groups currently participating in the truce has remained stable at 60, while two more settlements have joined the ceasefire regime, bringing the total number signing reconciliation agreements to 148, the ministry added.
Meanwhile, a "regime of silence" set to last until June 15 in the city of Darayya in Damascus province has been observed without violations, the Reconciliation Center's statement says.
Russian forces are also continuing their deliveries of humanitarian aid to the Syrian population.
Thirty-five heavy trucks have delivered humanitarian cargo from the UN to the al-Dar al-Kabirah area of the Homs province in cooperation with specialists from the Russian Reconciliation Center. In addition, Russian airplanes have dropped 18.3 tons of UN humanitarian cargos (food products, grains) for the city of Deir ez-Zor, which is currently besieged by Islamic State (IS, former ISIS/ISIL) terrorists.
You can share this story on social media: