Erdogan sends Putin 'first letter' since Su-24 shot down by Turkey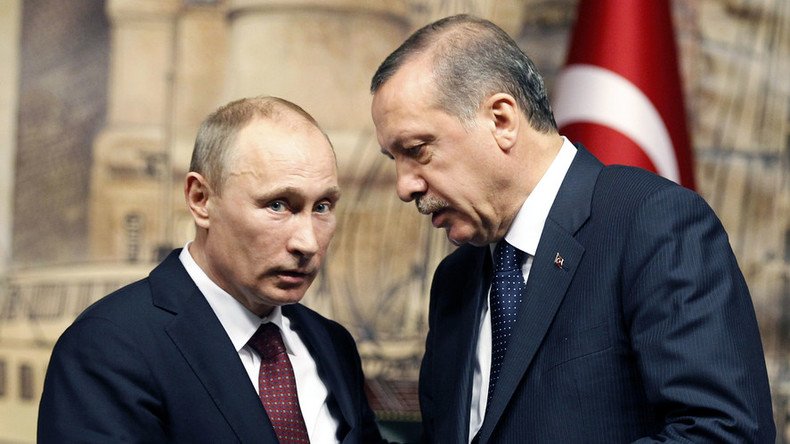 The Turkish president has sent a letter to Vladimir Putin congratulating him on Russia's National Day. The Kremlin has confirmed receiving what is said to be the first letter from Ankara since a Russian bomber was downed by a Turkish jet in November 2015.
"The letter came through the Foreign Ministry channels," Sputnik cited Kremlin spokesman Dmitry Peskov as saying.
In his letter, Turkish President Recep Tayyip Erdogan expressed hope that relations between the two countries would return to their previously strong level.
"Dear Mr. President. On behalf of the Turkish people, I congratulate all Russians on Russia Day, and hope that the relations between Russia and Turkey will rise to the deserved level," the letter said.
This is the first such letter by Erdogan, according to TASS. Previously, the Turkish leader addressed only the Russian people in general, as was the case, for instance, when offering condolences when a flight from Dubai to Rostov-on-Don crashed.
In a separate note, Turkey's Prime Minister Binali Yildirim wrote to his Russian counterpart Dmitry Medvedev that "in the near future, cooperation and relations between the two countries will reach a level that is essential for the common interests of our peoples."
Moscow-Ankara ties plunged to an unprecedentedly low level after a Turkish F-16 fighter destroyed a Russian Sukhoi Su-24 bomber engaging Islamic State (IS, formerly ISIS/ISIL) positions in northern Syria in 2015. One of the Russian pilots was killed on the ground by a militia group, although the other pilot was evacuated.
The Turkish leadership has refused to apologize or offer condolences for the incident. Moscow retaliated by prohibiting Russian businesses from hiring Turkish citizens. Russia then cancelled all charter flights to Turkey, stripping the country of income from thousands of Russian tourists. In addition, Moscow banned practically all food imports from Turkey, primarily fruits and vegetables, along with most poultry products.
On June 1, Kremlin spokesman Peskov reiterated the conditions voiced by Russian President Vladimir Putin in May, saying that Moscow expects Ankara to deliver apologies and financial compensation for the downed Su-24.
You can share this story on social media: