Lockdown lifted at University of Toronto after police fail to find 'suspicious' man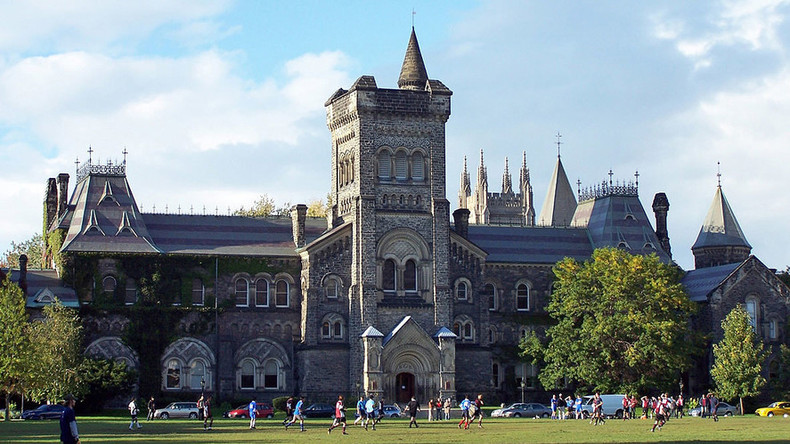 The lockdown at the University at Toronto has been called off, after a police search failed to locate a masked man, who was reported to the authorities by several sources on campus.
Earlier, a video posted on twitter by @camilacore showed police vehicles, officers, and a fire truck at the scene.
A separate arrest had been made by the police during the lockdown.
The man already taken into custody was handcuffed and walked out of the university's faculty of law building before being put into a police car, CBC reported.
However, Toronto Police Chief Mark Saunders said that man is "under investigation for something else right now." He declined to provide further details.
Saunders said several people on campus reported seeing a "suspicious person" dressed in black with a "surgical type" mask and knapsack, the National Post reported.
One person who called 911 said the man had a gun.
A tactical team and a K-9 unit were dispatched to the area at around 9 a.m. local time.
At 9:30 a.m., police received another call about "a person with a mask with a gun," police spokesman Const. Victor Kwong said.
"Here's the thing: we have not been able to speak with that person because they hung up," Kwong said. "So we don't know if that person is reporting what they saw, or reporting what they heard from the grapevine. We don't know if what they actually saw was a cop."
"Regardless, we're there. We're investigating…but at this time, we have no confirmation of an actual gun."
"There are security cameras that are around," Saunders said, as quoted by CBC. "We're working in conjunction with the U of T police and we're trying to put the pieces together."
"It's very early right now, so it's going to take a little more time to get everything so we can have as best a picture as possible to determine what this is all about," he continued.
He added that a witness took the picture that officers are using as a reference, and that "that picture did not indicate or show a firearm."
Meanwhile, two nearby hospitals have announced they are on lockdown.
The Toronto Transit Commission (TTC) has announced that trains on the Yonge-University line are bypassing Museum station due to the police investigation.