Weight-er! Japan's first naked restaurant rejects overweight diners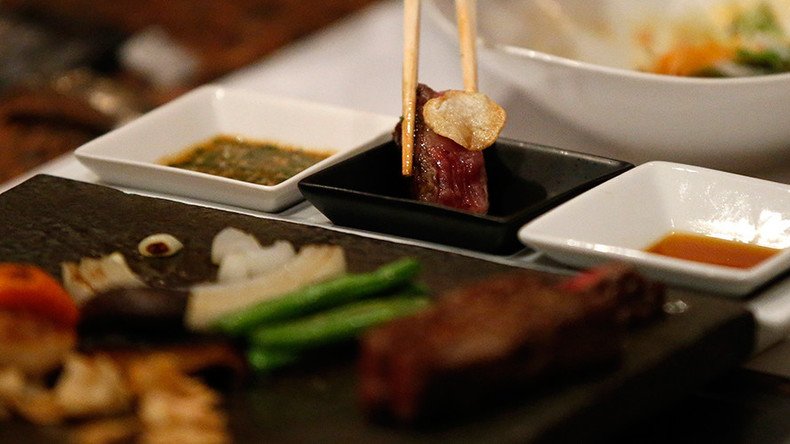 Japan's first naked restaurant to be opened in Tokyo next month has issued a disclaimer warning that obese clients would be denied service and not admitted in the first place. And no tattoos, please.
The Amrita ('Immortality' in Sanskrit) restaurant opening July 29 is follows the trend set by other 'naked' restaurants in London and Melbourne, but sets stricter rules for its customers.
"If you are more than 15 kilos [33lb] above the average weight for your height, we ask you refrain from making a reservation," regulations published on restaurant's website say. The guests who look overweight will be asked to go to the scales, the rules maintain, advising that you should weight yourself ahead of dining at Amrita.
Reservations are made online and the restaurant insists all payments to be made in advance. In case a client is denied entry because of being overweight, no refund would be made for a ticket priced up to 80,000 yen (US$750).
The hefty bill includes a meal and a dance show featuring male dancers. Without the show, the meal tickets may cost between 14,000-28,000 yen ($130-262). The food in Amrita will be served by muscle-bound men wearing g-strings.
Excess weight is not the only hindrance on the way inside. Patrons younger than 18 and older than 60 will be denied entrance. Before checking in your clothes and getting paper underwear provided by the restaurant, guests should prove that their skin bears no tattoos. Tattoos are attached to social stigma in Japan as they are associated with the criminal world.
Clients are also kindly asked not to touch each other or "cause a nuisance to other guests." Phones and cameras should also be locked away in a table-top box.
Meanwhile, the first nudist restaurant launched this week in South London will operate without electricity or gas, and will serve food on Flintstone-esque handmade clay plates with edible cutlery, promising customers a natural, candlelit ambience and the experience of "ultimate freedom."
You can share this story on social media: