Moscow warns of response after US sends destroyer to Black Sea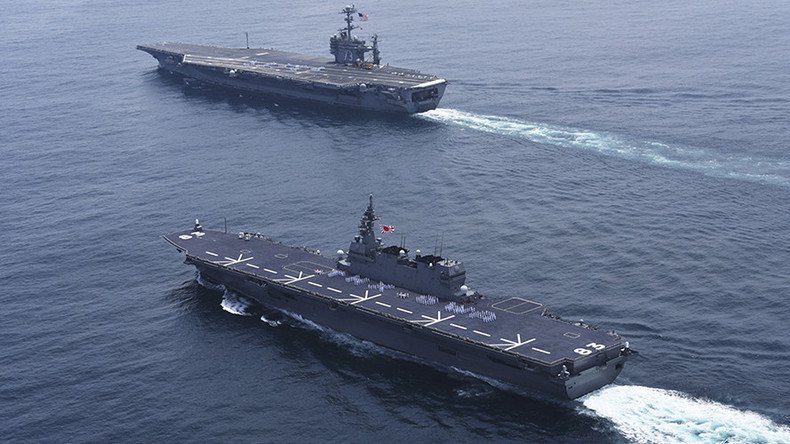 American warships entering the Black Sea will prompt "response measures" from Moscow, a top Russian diplomat has warned, adding that another US aircraft carrier in the Mediterranean is clearly an attempt to show force ahead of an upcoming NATO summit.
The USS Porter (DDG-78), armed with assault cruise missiles and an Aegis Ballistic Missile Defense System (primary weapon: Standard Missile 3), entered the Black Sea this week.
"American warships do enter the Black Sea now and then. Certainly, this does not meet with [Russia's] approval and will undoubtedly lead to planning response measures," Andrey Kelin, the head of the Russian Foreign Ministry's European Cooperation Department, told RIA Novosti on Friday.
He also disapproved of the deployment of the USS Harry S. Truman in the Mediterranean ahead of the NATO summit in Warsaw in July as muscle-flexing.
"There is nothing special about the movement of US vessels in this case. We know that aircraft carriers are moving in the Mediterranean Sea and elsewhere, they have a right to do so, this is freedom of navigation," he said.
"But in general, this is a definite increase in [Russia-US] relations and all this is done ahead of the NATO summit in Warsaw – this is a demonstration of force," he added.
The NATO summit will be held in Polish capital Warsaw on July 8-9, preceded by a series of large-scale war games in Eastern Europe and the Baltic states. The largest training exercise is taking place in Poland, where over 31,000 troops from 24 countries are taking part in NATO's Anaconda 2016 war drills – the largest war games in Eastern Europe since the Cold War.
The Anaconda 2016 NATO military exercise involves 24 NATO and "partner nations," including the US, the UK, Germany, Canada, Spain, Sweden, Turkey and others.
NATO has been signaling Moscow to hold another meeting ahead of the Warsaw gathering, although Russia is still considering the proposal and a final decision has not been made yet, Kelin said.
US-led NATO has been in more frequent contact with the Russian military following the disruption of relations that resulted from the reunification of the Crimea Peninsula with Russia in March 2014.
NATO decided to break off all contact with Russia in 2014, when Viktor Yanukovych was ousted as Ukraine's president during the so-called Euromaidan riots. A NATO-Russia Council meeting was held in June 2014, but the council was then subject to a lengthy break and meetings have only recently restarted.
"We will see how things move forward. But overall, we can absolutely not give up on the most important channel of cooperation and dialogue," RIA Novosti quoted Kelin as saying.
You can share this story on social media: